Chapter Eighteen: Giant Records & A New Start (1991-1992)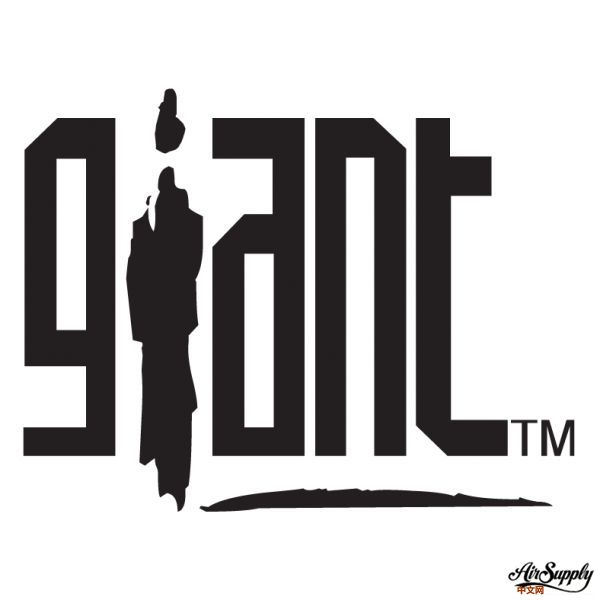 After the recording contract with Enigma fell apart, Air Supply began looking for another label to distribute their new record. The album was mostly complete because Air Supply had decided that they would finance the record from inside their own organization and take it to a record company. This meant longer hours in the recording studio, but it also gave them artistic freedom.

In 1990, a new start-up label called Giant Records was created by Warner Music Group and Irving Azoff. Azoff, a former artist manager and MCA Records president, was both feared and loathed in the record business. Warner was looking to start another label because they had just sold Geffen Records to MCA Music Entertainment. Originally, Azoff wanted to call the label Big Records but the name was already taken. The Giant Records name was also taken by a record label in Australia owned by former Air Supply producer Peter Dawkins but he agreed to sell the naming rights to Azoff. Giant Records focused mainly on Top 40 and R&B but also signed older established artists such as Steely Dan, Deep Purple, Brian Wilson and Kenny Rogers. At this point in their career, Air Supply fit perfectly into this category and signed a record deal with Giant. WEA was responsible for distribution of all Giant Records recordings outside of North America. With the backing of an established label like Warner, Air Supply was now able to complete the new record and have it promoted and distributed worldwide.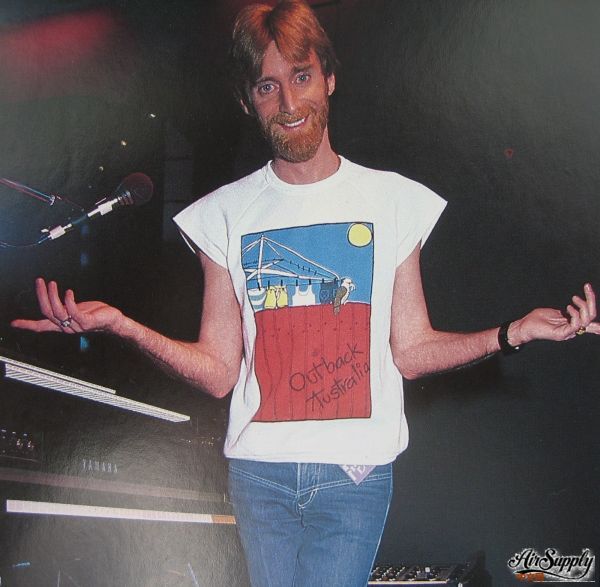 Frank Esler-Smith 1948-1991

The backing band for Air Supply in 1991 was an extremely talented group of musicians. The band toured as a group of seven, but the studio sessions for the new album included many other musicians. Lead guitar player, Kevin Curry, toured with the band when Jimmy Haun was not available. Haun, Michael Sherwood, Larry Antonino and David Young all contributed as co-writers with Graham on many of the new songs. Ralph Cooper remained on drums and Guy Allison played piano on tour.

On March 1, former Air Supply arranger and keyboard player Frank Esler-Smith died from pneumonia while at home in Melbourne, Australia. According to the website, rememberme.org, Esler-Smith is listed as a musician who had AIDS. Born in London in 1948, Esler-Smith came to Australia in 1961 and settled in Melbourne, where he graduated in Music and Education at Melbourne University. He first worked for Harry M. Miller on the Melbourne production of Grease and was musical director for the Total Theatre production of Guys and Dolls. Before joining the 1975 production of Superstar, Esler-Smith worked as a musician at GTV-9 in Melbourne, and toured with several local and international artists, including Gene Pitney and Del Shannon.

Frank Esler-Smith was arguably the most influential band member in creating the lush orchestrated sound of Air Supply that was so popular in the early 80s. "It was a great loss for us," said Graham. "He was there from the beginning. He actually played piano at my Superstar audition before I knew him. Then, when we made a record, he joined the band and left the Superstar production. He was a great, great musician and a beautiful pianist. But his greatest contribution was the fact that he could compose beautiful string arrangements for us like the 'Lost In Love' arrangement and the 'All Out Of Love' arrangement. We will always miss Frank's stunning string arrangements."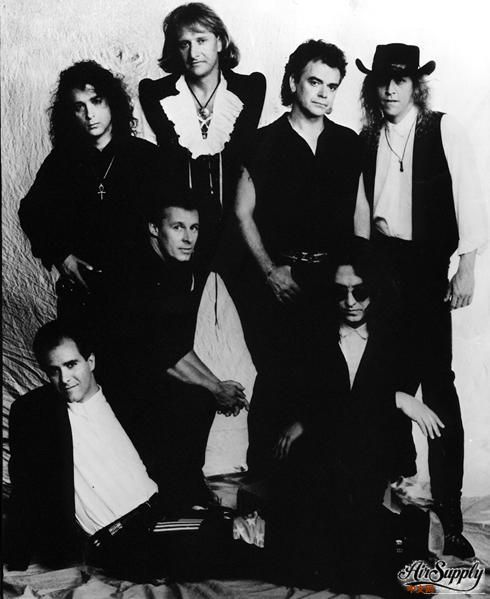 Promotional Photo 1991

Air Supply toured North and South America throughout the spring and summer. One of the new live songs, 'Dancing With The Mountain,' showed a more mature side of the band and was an indication the next record would be a departure from their earlier work. Graham's writing took on deeper meaning and focused less on simple love stories. 'Dancing With The Mountain' was a title that came out of Russell's attempt to learn skiing. His instructor told him he would have to dance with the mountain if he was to master the art. Another song called 'Bread and Blood' was written after two of Graham's friends asked him for advice after difficulties they encountered over forbidden love based on religious grounds.

The transition to lyrics with deeper meaning was not by accident as Graham and Russell shared a fascination with the supernatural for many years. At just seventeen, Russell found it difficult to find his place in the world. "I had questions about why am I here and how can I get out," he said. "I just didn't go with the normal flow of things." Russell was seeking answers to his existence and the meaning of life when a friend handed him several obscure philosophical books. Graham could easily relate to Russell's identity struggles because he had started reading similar books at age 20. "There has always been that esoteric bond between us even though we obviously do not sit down and read books together," said Graham. "We've both had several mystical experiences. We still do. We get little messages in life that tell us we are on the right track." Graham's involvement with mysticism had lead him to wear a fossilised walrus tooth carved in the shape of an eagle's head around his neck for protection. "If you grind our bodies down, we just break up and end up as either of the four elements - earth, air, fire or water," he claims. "In the mythological world, I relate to the air element, hence the eagle. You know it's funny, because nobody's going to believe this, but the best part is... it's all true. I'll give you a hint - I'm an air element and so is Russell. Doesn't that say anything as to why we're called Air Supply?"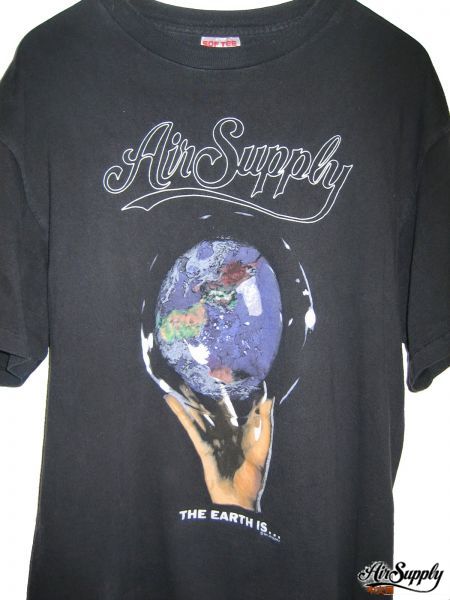 The Earth Is... Tour T-Shirt

While the band experimented with new lyrics, they also unveiled a new image. The colorful suit jackets from the 80s were replaced with predominately black and white rock attire. Russell wore a black cutoff shirt, which revealed his many tattoos. Graham wore a black and white outfit that looked to be a cross between Shakespeare and Victorian goth. Graham spent considerable time pushing his Robin Hood-inspired musical over the last three years and he was still dressing the part in 1991.

1991 Summer Tour Setlist
1. Dancing With The Mountain 8. Bread And Blood
2. Making Love Out Of Nothing At All 9. The Earth Is...
3. Here I Am 10. The One That You Love
4. Lost In Love 11. All Out Of Love
5. Stronger Than The Night 12. Stand Up
6. Never Fade Away 13. Without You
7. She's Got The Answer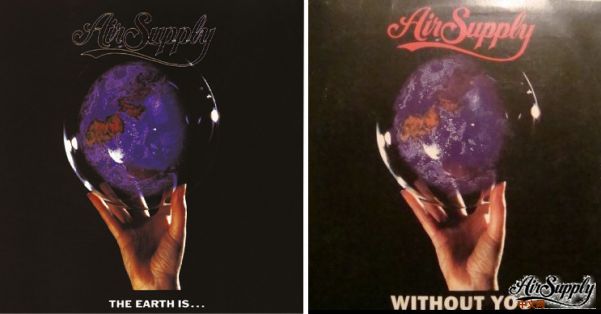 'The Earth Is...' album & 'Without You' 7" Single

On July 23, the band's Giant Records debut album, 'The Earth Is...' was released along with the lead single 'Without You.' The album cover featured the band name in the typeface it made famous in the early 80s. Air Supply recorded very few covers over their career but the new single held special meaning with Graham because it has the first song he heard after the birth of his daughter Samantha in 1972. "We were in Mexico in '89, driving between shows and talking about the new album," said Graham. "Out of the blue, I said to Russell, 'I'd love to record 'Without You''. He misunderstood - he thought I meant without him. He turned to me and he said, 'Really? What do you mean? What have I done?' I said 'No, the song - I want you to sing 'Without You.''"

'Without You' was first released by British rock band Badfinger in 1970, but was not a hit until Harry Nilson recorded the song in 1971. The song had been covered by dozens of artists but Russell felt their 1991 version was better than most. "This is an undeniably great song written by Pete Ham of Badfinger," said Russell. "It was a huge hit for Harry Nilson and I truly believe that our version is up there with the best of them. We recorded it in Capitol Studios in Los Angeles where Frank Sinatra used to record most of his stuff. When I went into the studio I was not even aware that I had sang the song. Everything just went dark around me and I just sang it. It was like somebody had to come in and slap me to wake me up. That was about the most spiritual experience that I've had. And I think that 'The One That You Love' and 'Without You' were recorded in one take, usually you do it half a dozen times to get the best." Air Supply's version of 'Without You' quickly entered the U.S. Adult Contemporary charts but stalled at #48. A grueling promotional tour across the U.S., including several late night TV appearances, did not convince radio to play Air Supply in North America. In August, 'Without You' reached #32 in Japan, where it charted for 5 weeks.



1990 Promotional Photo

Produced by Harry Maslin, and remixed by Humberto Gatica, 'The Earth Is...' offered a variety of sounds. Songs such as 'Stop The Tears,' 'Speaking Of Love' and 'Stronger Than The Night' were classic grand-scale ballads designed to showcase Russell's powerful vocals. 'She's Got The Answer' and 'Love Conquers Time' explored the issues between men and woman, and highlighted Air Supply's trademark harmonies. 'Dancing With The Mountain' and 'Dame Amor' emphasized percussive world beat arrangements. 'Dame Amor' (Spanish for 'Give Me Love') was sung in flawless Spanish by both Russell and Graham, and featured an elegant guitar and mandolin underscore. Russell said that 'Dame Amor' would never have had a chance to be included on earlier Air Supply albums. Arista would have never allowed it. In fact, there was initial negative response to it this time from Giant. "But we were determined it would be on the record," said Russell. "This is Air Supply now. 'Dame Amor' came out of our many months of touring in Latin America and absorbing the music there." Adds graham, "We'd be having breakfast in a hotel in Paraguay, and there would be some native band playing in the corner while you reached for the Corn Flakes! The rhythms were all around us."

Music critics were quite impressed with 'The Earth Is...' and Air Supply's evolving sound;
'The Earth Is...' Air Supply's first album in five years, mixes influences from across the world. It's a free-sounding album full of life and energy. And that's no accident. Russell Hitchcock and Graham Russell have worked hard to break out of the studio-driven 'ballads-only' mode and give Air Supply the sound they want. Success! 'The Earth Is...' is an album full of concerns for life, love and our planet. - USA Today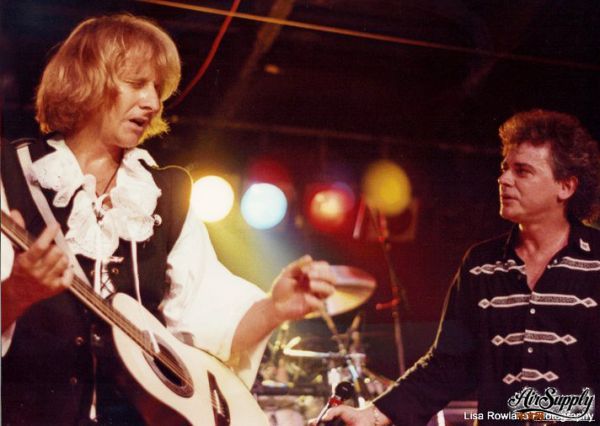 Live in 1991 (Courtesy of Lisa Rowland)

The music scene in the early 1990's was heavily influenced by the Seattle grunge movement as bands like Nirvana, Alice in Chains and Soundgarden became mainstream. There was little demand for adult contemporary music and this made 'The Earth Is...' a tough sell in North America. But music critics felt the album was a step in the right direction because it showed growth and maturity. "We haven't compromised, and have remained true to ourselves and true to our music," said Graham. "That's part of the reason we've been around so long. The whole business has changed. When we started, the emphasis was on artistic integrity and creativity. Over the years, it has shifted to business, mainly money... It's a fast-food world now. I really think that being considered uncool is what makes us a cool band."

Although it was largely ignored by North American radio, 'Without You' received significant airplay in Latin America, Asia and parts of Europe, exemplifying the shift in Air Supply's popularity away from North America. But Giant Records had only recently signed Air Supply with the intention of bringing them back to radio dominance, and were unwilling to give up on the U.S. market. They invested a lot of marketing resources in vain before they resigned to the fact that money was better spent overseas. The lack of success of 'Without You' in North America was painfully highlighted when in 1994 Mariah Carey scored a massive hit with her version of the song. Air Supply refused to play 'Without You' at concerts in North America for several years following.

The Earth Is....live VHS music video was released after three years in the making, but was only available through the official fan club. It was originally intended for release on cable television's VH-1 network. The video included interviews with Graham and Russell plus live concert footage from Los Angeles, Taiwan and Venezuela. Very few copies of the video were sold, making it perhaps the single most sought after item by collectors.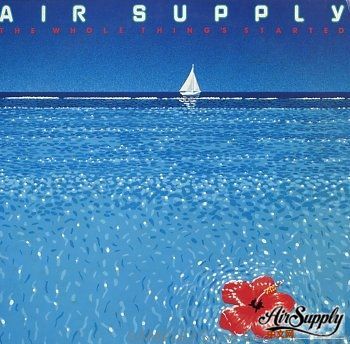 'The Whole Thing's Started' Japan CD

Another rare item was released by Sony/Epic Records in 1991, a CD version of 'The Whole Thing's Started' LP, first released in Japan in 1980 with a different album cover. This was the first time the record was made available on CD format and it quickly became a highly sought-after collectible. In 2002, the CD was again re-issued by Sony/Epic in Japan but it did very little to help satisfy the demand. It is not uncommon for this CD to sell on eBay for $75 - $100 (USD).

A compilation CD was released in Singapore by Hanyang Records Co., Ltd. The hits collection, titled 'Air Supply Best,' contained 14 tracks taken from early Arista recordings, and signaled the start of many Air Supply compilations to hit record stores in the early 90s.

The Rainbow Music Group, a small Australian budget label based in Sydney, released a re-issue of Air Supply's 1976 debut album on CD (RCD 1118) in 1989. This marked the first time that the album was transferred to CD in its entirety with original cover artwork. Rainbow was in the business of re-issuing older albums on CD at a budget-friendly price as part of their Rainbow Music Series. Rainbow again re-issued Air Supply's debut album on CD (RCD 9081) in 1991.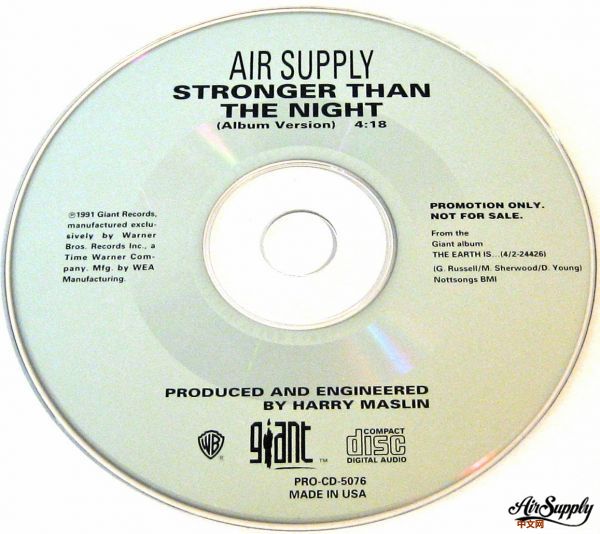 U.S. Promo CD Single

The second single off 'The Earth Is...', 'Stronger Than The Night,' was released in October. The song highlighted Russell's powerful vocals and was accompanied by a promotional music video. "This one is more in the classic Air Supply vain," said Russell, "it's quite grand at the end and I think it has a really incredible melody - it's one of the prettiest things we've done. I just hope people will respond to it over the airwaves as they have in concert. It's a song that we've been playing for a quite a while now and every night it gets an incredible response." Graham adds, "It was chosen as the second single because it's probably one of the more accessible tracks on the album. It's more familiar Air Supply as opposed to the rest of the tracks - some of the other tracks are a little more left-wing. 'Without You' was an old song, it was a song that we just wanted to record because we loved the song. But now I think with 'Stronger Than The Night' it's sort of back to business - this is Air Supply."

Billboard magazine did not recognize 'Stronger Than The Night' as a Critics Choice or Pick Single, which identified new singles with the most chart potential, but gave it a favourable review: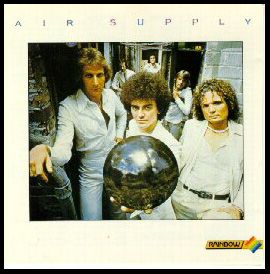 'Air Supply' - Rainbow 1989 & 1991

Aussie duo's trademark sound remains intact, even after a six-year hiatus. Dramatic, passionate rock ballad lays romantic melody against environmental theme. Should play well with nostalgic programmers.
Unfortunately, the song and video was ignored by radio and TV. 'Stronger Than The Night' failed to enter the charts in North America, and any momentum created by 'Without You' was all but gone. 'Stronger Than The Night' did much better in Asia and Latin America, which was vital in helping 'The Earth Is...' achieve platinum status there.

A lengthy tour of the U.S. and Canada continued throughout October before all shows in Florida were canceled in early November. The constant touring was putting a strain on Russell's vocal chords and he required time off to rest his voice. "My dad was a singer so maybe I got some part of his genes or something," says Russell. "If I wasn't a singer I sometimes think I would enjoy it more because if you have a cold and you play guitar it's OK. But if you sing, it's your body and not an outside instrument. I really have to be sensible and not do anything that I shouldn't do anymore."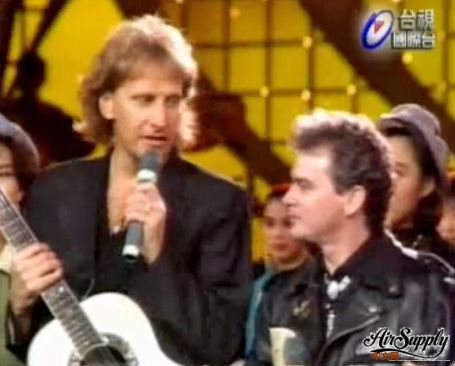 Taiwan TV - December, 1991

In late November, Air Supply began a promotional tour of Asia in support of the 'The Earth Is...'. The popularity of the band in South Eastern Asia had not dropped like it had in North America, but rather had increased. "We first came to Asia in 1981 and we thought then that it would be great, but we presumed that no one would understand or get the music," said Graham. "We thought we might be mildly successful at most. But when we came here it was quite the opposite." Now ten years later and just one month after release, 'The Earth Is...' had sold over 12,000 units in Malaysia, and several other Asian countries were reporting similar numbers. 'The Earth Is...' never charted on North American album charts, but it did achieve gold status in over 20 countries and platinum status in many others. Air Supply were now international superstars, but were considered has-beens in North America and Australia.

During press conferences in Asia, Russell and Graham were repeatedly asked what the new album was all about. Was it another save-the-planet project, a popular topic with musicians in the early 90s? Graham claimed that the album held deeper meaning and was not simply suggesting the world needs to save the whales. "'The Earth Is...' is not an environmental album," he said. "What it's supposed to mean is that the earth is too small to be divided. The world is becoming a smaller place. We're not saying 'save the shrimp' or some such thing. We're making people aware of what they already know. Instead of I love you, you love me - it's I love everybody. I was wondering why the governments of the world couldn't just once stop what they're doing, feed the hungry and rescue the planet. Then they can resume their wars."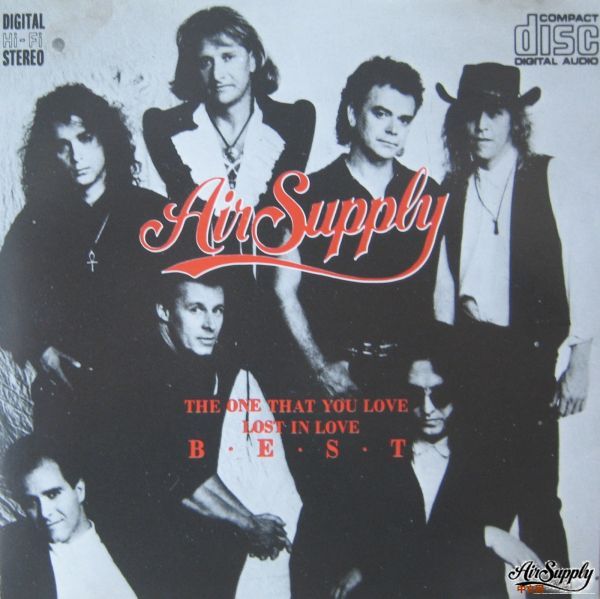 'Air Supply Best' - Singapore CD

Russell's third marriage ended when he and Paula divorced in 1991. He began dating a girl from California named Rebecca Fields who was involved in the music business as a live sound engineer, and with whom he shared a fascination with tattoos. Russell first went under the needle in 1986, getting a small, quarter-size rose. Five years later, he went in for another, with plans for many more. "The guy said, 'If you're going to do this again, you should do it bigger,'" said Russell. "So, it was relatively big. And when it was done, it just looked so nice. I have already paid about $300 for a phoenix on my chest. It will probably cost another $600 when it is coloured." Russell's other tattoos included three ancient Japanese characters that read 'beautiful song,' a red heart on his right shoulder, which he and Rebecca shared and a green Peter Pan directly above his heart tattoo. "My [then] wife freaked out when I told her I was going to get a tattoo. So she said I may as well get a Peter Pan because, she said, I'd never grow up. I said, 'That's a good idea,' and I did it. People just think because you have a tattoo, you're weird or different and treat you funny. I don't think there is anything wrong with it so I just did it!" While Russell found new love with Rebecca, he was in no rush to get married again saying it was simply "too expensive" to re-marry.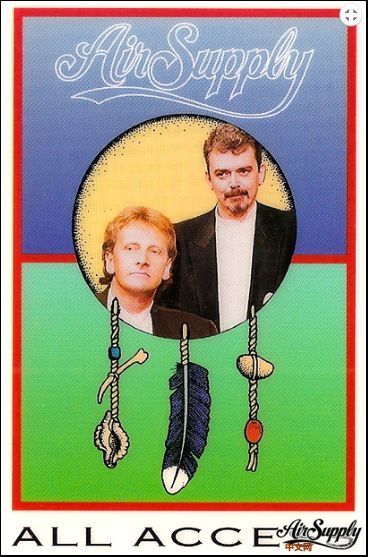 1992 Concert Pass

Air Supply traveled to Asia in early 1992 to continue 'The Earth Is...' tour, including a free concert in Korea for the 2nd Infantry Division GIs, civilian employees and their families. Air Supply experienced a major shakeup before the start of the Asian tour. Bass player Larry Antonino was not able to join the tour so Cliff Rehrig, a musician from California, took his place. "They held auditions and I got to go to Asia with them," remembers Rehrig. "I had to think about that for a long time, whether I wanted to go on tour with them or not. It took about two seconds!" Rehrig found it rather ironic that he was now working with Air Supply because ten years earlier, when he first moved to California, he had met Graham in a music store. "He has hair down to his ankles and all the woman love him to death," jokes Russell. "He is a great bass player and one of the gentlest souls I have met. He kinda does not belong in music because he's too nice of a person." Jimmy Haun, Guy Allison, and Michael Sherwood stayed on with Air Supply, but other artists were called upon to perform when needed. Michael Thompson, an accomplished session guitarist, performed with Air Supply when Haun was not available.

Mark Williams, the son of American composer John Williams, frequently filled in for Ralph Cooper, who had recently married and started a computer business. Cooper officially announced his departure from Air Supply in 1993, deciding that life on the road was not for him anymore. He spent 14 years with Air Supply. "I got interested in drums when I was was five," said Cooper. "My Mother took me to see The Gene Krupa Story, and he was a great swing drummer. I loved it so much I made her sit through it three times. From that point on it was just drums for me. I started playing in bands in my late teens. I toured around Australia a lot, and eventually joined Air Supply [in 1978]. After spending about twenty six years touring, working and playing, I decided to take a year off because I felt burnt out, and I was ready for a break. I thought I would take just a year off, and I got involved in my own IT business for fun. But it turned into a real business, and then I got married. I really thought that I would go back and possibly join another band, and keep touring, but life changes sometimes."

Mark Williams replaced Ralph Cooper as Air Supply's full-time drummer. Graham first worked with Williams in 1988 during recording sessions for the Sherwood project. "We actually met one time before in 1984 at a concert in Hartford when I was playing with Crosby, Stills and Nash," said Williams. "Jimmy Haun recommended that they call me, and I said absolutely!"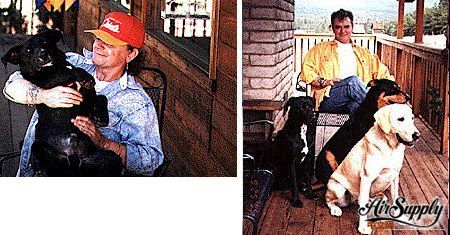 Relaxing at Home

Air Supply's increasing popularity in Asia and Latin America was made evident by the growing amounts of fan mail from these regions. Mackie Mann, co-owner of Mail Mann fan mail answering service, was still processing all Air Supply fan mail and she noticed a large increase in mail from Japan, Russia, Germany, Poland, Switzerland and several countries in South America. They even received letters from Sweden where one fan wrote, "Dear Air Supply members: I love your music. I need your music. I really respect your music." Mackie says that of her 64 clients, who pay between $75 and $1,000 a month depending on mail volume, only a select few, like Air Supply, can she mention by name. "One reason is that some stars go on TV and say, 'I read every letter,'" she said. "Since the fans think that the replies come from the stars, I don't want them to know any different." Air Supply had no problem letting fans know they used a fan mail answering service and although every letter might not get a response, every piece of mail would be read by someone.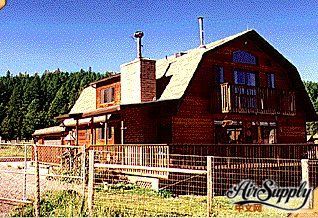 Flagstaff, Arizona

While much of 1992 was spent on the road, Russell made a major change back home in the U.S. The Los Angeles riots, which occurred after the acquittal of the police officers involved in the Rodney King beating, helped to convince Russell that it was time to leave the area. So he moved to Flagstaff, Arizona to live with Rebecca at the base of the San Francisco Peaks. "It was time to get out of Dodge, [so] I moved to Northern Arizona," said Russell. "I live in the mountains there on a dirt road. There is a well that pumps water into my house. It's not primitive but it's not like living in the city. Because we travel so much now and all the places we go to are big cities mostly, primarily in Asia and Latin America, it's just a joy to get home. I lived in a city all my life. I was was born in Brunswick in Melbourne and it was a very city vibe there. Where we are now is very peaceful. When you go out in the winter all you can hear is the breeze. There's no traffic, just nothing. About fifty feet from my house is about a million acres of national forest full of pine trees. We have all kinds of wild life like elk, deer, coyotes, bears and chipmunks. It has kinda rejuvenated my interest in the universe."




'Greatest Hits' VHS & 'Stop The Tears' Video

The third and final single from 'The Earth Is...', 'Stop The Tears,' was released but it did not chart. Giant released an accompanying music video showing Russell and Graham performing in a desert setting.

In the early 90s, television music videos were still very popular, and EMI Australia released a VHS video called 'Greatest Hits,' featuring 11 videos from Air Supply. EMI was licensed to use Arista and CBS videos, so the recent Giant videos ('Stronger Than The Night' and 'Stop The Tears') were not included. The video was released exclusively in Australia, making it a rare item today. Demand for the video was somewhat lowered when most of its content was released in 2001 on the Definitive Collection DVD. Regardless, the 'Greatest Hits' VHS is the only official release to include the music videos for the bands first hit, 'Love and Other Bruises,' and the seldom seen 'Bring Out The Magic.'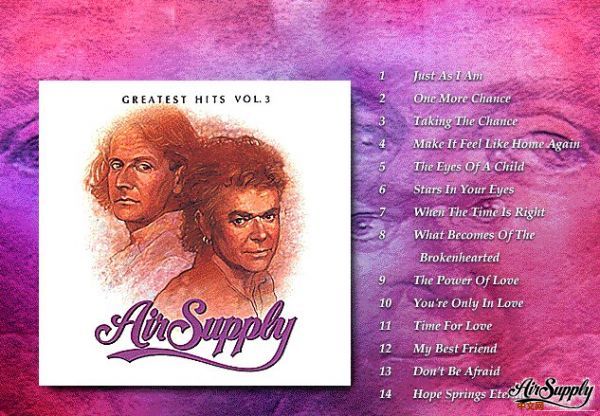 The tour of '92 returned to North America for the summer months, and featured Air Supply performing a mostly acoustic set. Like the acoustic tour in 1990, Russell and Graham were backed by two musicians: bassist Cliff Rehrig and pianist Wade Preston. The stripped-down instrumentals gave extra feeling to such hits as 'Lost In Love' and 'Making Love Out Of Nothing At All.' During breaks in Air Supply's summer tour, Russell booked a series of solo performances in Midwestern America. His attempt at a solo career in 1988 was a disappointing failure, but the success of his latest single, 'Swear To Your Heart,' gave him renewed hope. Despite significant promotional work on television and radio (Dick Clark's Countdown America spotlight on Russell Hitchcock), Russell's concerts were cancelled last minute due to poor ticket sales.

Graham had penned several new songs and Air Supply previewed some of these during the summer tour. The newer material, especially songs from 'The Earth Is...' were not going over so well, as fans gave the older hits a more enthusiastic reception. One new song that did stand out was 'It's Never Too Late.' Air Supply began playing the song during the tour of Asia and it quickly became a crowd favourite. "We always test the material live," said Graham. "If we get a certain reaction, we know we've gotten it right, and we record it." Another new song, 'I Remember Love,' did not get the same reception from fans but it was another classic-sounding Air Supply song. "The new album has a diverse range of material," says Russell. "But it's true to Air Supply's original vision. With the upsurge of different kinds of music, it's easy to think we should record a song like this or that, because it's what's happening right now. But we've never done that. Rightly or wrongly, we've always stuck to our guns and done what feels best to us. We're going to begin recording our next album in September. This will be our 14th - we're catching up to Chicago."

The tour of North America was considered a success, although the band was no longer performing in arena-sized venues. They mostly played two-to-three thousand seat theaters and festivals. Not every show sold out, but Air Supply maintained a loyal following in North America. In Canada, they played the Ontario Place Forum in 1991 and 1992, and both performances ranked in the top 10 shows of the year for that venue which comfortably holds up to 10,500 people. By the end of 1992, 'The Earth Is...' had quietly sold over 500,000 copies worldwide.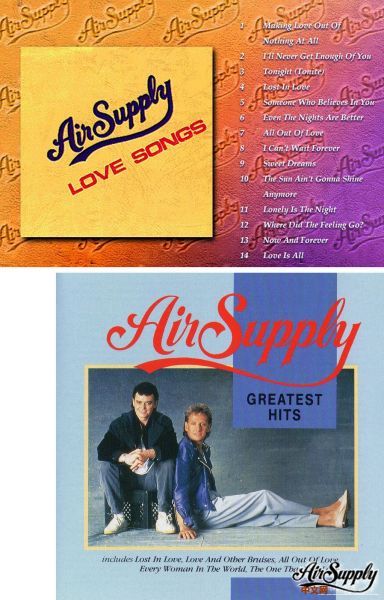 Several compilation CDs were released around the world in 1992. The first was a joint venture between Arista and BMG called 'Love Songs.' BMG was now a strong presence in Asia and they were more than anxious to take advantage of Air Supply's popularity in the region. 'Love Songs' is a compilation from Taiwan featuring 14 songs from albums released in 1980-1988, including three tracks from Russell's solo album. The inclusion of 'I Can Wait Forever,' 'Love Is All' and several less popular songs like 'Tonight' and 'I'll Never Get Enough Of You' make this the most interesting compilation to date. Yet, the absence of songs from the 1985 self titled album is puzzling.

The popularity of Air Supply in Taiwan was so high that a second hits compilation was released in the same year. Manufactured again by Arista/BMG, 'Greatest Hits Vol.3' was essentially a follow-on to the 'Love Songs' collection rather than the 'Greatest Hits Vol.2' album from 1985. Like 'Love Songs,' the 'Greatest Hits Vol.3' collection contained many less popular tracks such as 'Time For Love,' 'You're Only In Love,' 'My Best Friend' and fan favourite 'One More Chance.' Most of the 14 tracks were taken from albums released in the second half of the 80s making this a welcome addition as most compilations focused on the earlier albums. Today, both Taiwan CDs are difficult to find and there have been few compilations since that offer such a unique mix of songs.

In October, Graham and Russell traveled to Taipai, Taiwan to perform at Star TV's one year anniversary as representatives of MTV-Asia. They played acoustic versions of 'All Out Of Love' and 'The Earth Is...'. The show aired throughout Asia and parts of the Middle East, reaching over 500 million viewers.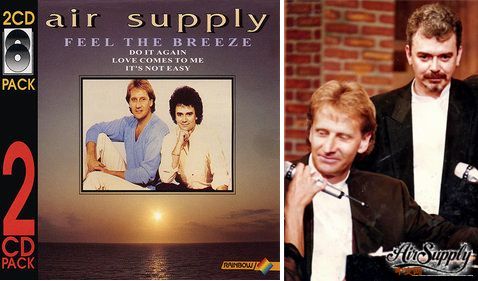 'Feel The Breeze' 2CD Argentina Television

EMI Music Group Australasia manufactured and released a re-issue of the Australian 'Air Supply Greatest Hits' on CD, complete with new packaging. The 14-song hits collection was mostly aimed at the Australian market, as it included the Aussie singles 'Bring Out The Magic' and 'Love and Other Bruises.' The CD was later released in 2003 and 2007 by Pid Records, making it a relatively easy find for collectors.

The Rainbow Music Group released a 21-track double CD titled 'Feel The Breeze.' The 2-CD Australian set was not a hits compilation but a re-issue of Air Supply's first two CBS albums. The package was released just one year after Rainbow had re-issued Air Supply's 1976 debut album on CD, but there was still demand for the early recordings on compact disc technology. The value-priced package sold out quickly and has become a difficult find for collectors.




Air Supply Perform on Ritmo De La Noche - Argentina

In November, Air Supply traveled as a seven-piece band to Argentina to perform at a private party for the Brahma Beer Company. The band included Ralph Cooper, Jimmy Haun, Wade Preston, Guy Allison and Cliff Rehrig. While there, they also made appearances on two television shows; Jugate Conmigo and Ritmo De La Noche. The shows featured performances of 'Lost In Love,' 'All Out Of Love,' 'Making Love Out Of Nothing At All,' 'Without You,' and a new song 'I'll Be Thinking Of You.' Air Supply was extremely popular in Argentina, where 'The Earth Is...' went to #1 and remained at that chart position for five weeks. The record sold over 40,000 units in just four weeks.



'Air Supply Collection' & 'It's Not Too Late'

On December 16, a Japanese hits collection, 'It's Not Too Late ~The Best of Air Supply,' was released by Arista. The CD was manufactured by BMG Victor and featured 12 songs from 1980 to 1986, including the live version of 'Late Again.' Most of the tracks are from the early U.S. albums, and with the exception of 'It's Not Too Late' and 'Late Again,' this hits collection is similar to most other compilations.

BMG Records (Pilipinas), Inc. released a 16-track compilation CD in the Philippines called 'Air Supply Collection.' Like many of the Asian compilation CDs released in the early 90s it contained songs from 1980 to 1988, and included solo material from Russell Hitchcock.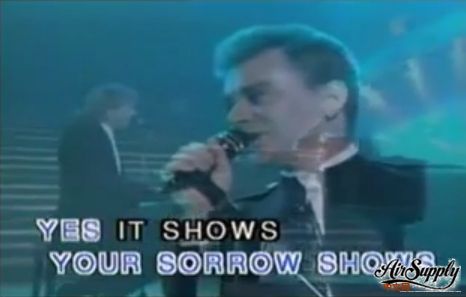 Warner 15th Anniversary 1992

Graham and Russell performed at the 15th Anniversary celebration for Warner Music at the Coliseum in Hong Kong. The event was televised and featured many Asian musicians and actors including Dicky Cheung, Alex To, Sally Yeh and Carina Lau. The Air Supply band did not make the trip but Graham and Russell performed 'All Out Of Love' and 'Without You' before a crowd of almost 12,000. Warner Music released the event on VHS and Laser Disc in Hong Kong along with a karaoke version.