Chapter Nineteen: The Vanishing Race (1993-1994)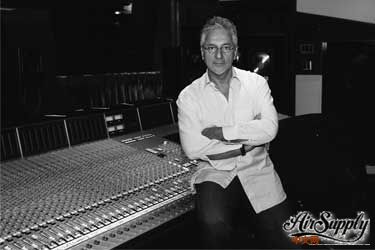 Producer Humberto Gatica

Air Supply's latest album was shaping up to be quite different from their previous record. They worked with producer Humberto Gatica, who had moved to the States from Chile in 1968. Gatica was well established in the music industry, and was the recipient of several Grammy awards, including best engineer for Chicago's '17' and Michael Jackson's 'Bad.' He had played a major role in the production of 'The Earth Is...', so he was already familiar with Air Supply's successful career, which now included over 25 million records sold (Singles and LPs combined). Gatica's ability to capture the best vocals possible made him an excellent choice to produce the new record, to take advantage of the unmistakable tenor-and-baritone vocal combination of Air Supply. He made use of a customized, and somewhat outdated microphone, which he felt gave his recordings a better clarity of sound. "The vocals are the most important aspect of the recording for me," said Gatica. "I pay a lot of attention to vocal recording, and I have found the zone where the vocals behave best. [My mic] challenges every other mic on the planet in terms of purity and clean sound. Everything has to revolve and sound good around the vocal. When I've gotten the vocal to sound right, the foundation is there and the mix becomes more fun, and there is room to be creative and experiment with the rest of the mix."




Acapulco Music Festival, Mexico - May, 1993

In May, Graham and Russell went on a promotional tour to Argentina and Mexico, where they appeared on several radio and television shows. They performed at the Acapulco Music Festival, a week-long event held annually at the 5,500-seat Convention Center. It was broadcast by Mexico's Televisa TV network to 22 countries with an estimated viewing audience of over 500 million people. The 1993 Festival featured mostly Latin American artists, but also international stars such as Sting, Jon Secada, Duran Duran, Air Supply, and Gloria Estefan. A major change at the 1993 Acapulco Festival was an emphasis on live performances rather than lip-synching, which had been the rule at previous festivals because it improved the audio quality for TV transmission. Widespread criticism of lip-synching at previous festivals brought about the change. Due to technical difficulties, about 30% of the artists (Air Supply included) were forced to lip-sync or sing to backing tapes.

The Air Supply band went through a major overhaul in 1993. Lead guitarist Jimmy Haun left and was replaced on tour by either Michael Thompson or Dick Smith. Smith was an experienced guitar player, having played with R&B/funk band Earth, Wind & Fire from 1987 to 1993. Guy Allison juggled Air Supply with his other commitments, and was often replaced by pianist Brian Becvar. Michael Sherwood shared keyboard duties with new tour member Hans Zermuehlen. Mark Williams remained on drums as did Cliff Rehrig on bass. Despite the changes, the 7-piece band sounded terrific in concert. Vocally, Russell was still at the top of his game. His voice on 'The Earth Is...' and this new album was louder, and perhaps more powerful, without any loss of clarity or range. Visually, the band dressed more casual on stage, with Graham and Russell wearing black jeans or trousers with button-up dress shirts. Russell wore a black leather jacket for several shows.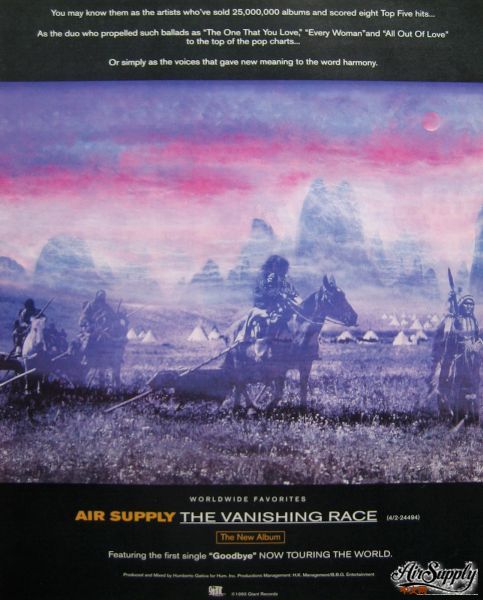 Full Page Billboard Ad - June 12, 1993

The new album, 'The Vanishing Race,' was released in May, along with the lead single, 'Goodbye.' Humberto Gatica was a long-time friend and collaborator with Canadian producer David Foster, and this relationship brought Air Supply and Foster together again. The result was the power ballad 'Goodbye.' Foster and his then-wife Linda Thompson wrote the song, and Air Supply knew it could be a big hit. Graham believed that Giant chose 'Goodbye' as the first single because the song sounded very much like traditional Air Supply. The label played it safe.

The title, 'The Vanishing Race,' came about when Graham, Michael Sherwood and Larry Antonino composed a song of the same name, with the hope of making people aware of indigenous peoples around the world. On his birthday in 1991, Graham had received a book of original prints of Native Americans called Portraits From North American Indian Life, by Edward S. Curtis. "I've always appreciated the Native Americans because of their closeness to the land and nature," said Graham. "It was my birthday, and we were in the U.S. on tour when the band bought me this big book of Indian mythology. I opened it up and there was a picture of four Apache Indians on horseback riding into a blizzard. Everything they owned was on the back of their horses and they were going into the unknown. They just looked so dejected and I was so moved by it. Underneath it had a caption that said 'The Vanishing Race.' The song came from that and I think its done a good job of bringing attention to the Indians." While recording the new album Graham wanted to add a bona fide Native American prayer to 'The Vanishing Race' track. He contacted a member of the Warm Springs tribe of Oregon, named Quiltman, who contributed an authentic Indian prayer. "It was this magic that convinced us to call the album 'The Vanishing Race,'" said Graham. With this vision, Graham asked internationally acclaimed artist Brett-Livingstone Strong to design the album cover which would reflect for the eyes what had been captured on tape for the ears.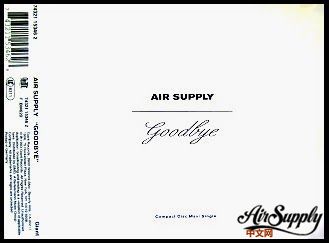 'Goodbye' CD Maxi Single - Germany

'Goodbye' entered the Billboard Adult Contemporary chart at #48. The song had all the elements of a big hit, but North American radio refused to play it. The Air Supply fan club asked American fans to call their local radio stations to request the song, and sent members a list of phone numbers. "We've found since 1986, which is a long time ago, that anything we took to radio has been ignored," said Russell. "It's not common knowledge to a lot of people in the U.S., but our career kind of took hold in both Southeast Asia and Latin America from the release of this new string of albums. If the records hadn't sold in such large numbers overseas, Graham and myself would probably question the content or what we were doing or whatever." The success of 'Goodbye' in Latin America and Asia was so huge that it rivaled the impact that 'Lost In Love' had in America in 1980. The song gave Air Supply a new lease on life, and was really the start of another career. 'Goodbye' was #1 in several Asian countries. It was also a huge hit in Brazil and Argentina. The 'Goodbye' promotional video got heavy airplay in Indonesia, Malaysia, Taiwan and Hong Kong.

'Goodbye' was released in the U.K. as a 3-track CD maxi-single in November, and it did surprisingly well considering the U.K. had never embraced Air Supply. Only three songs had ever charted in the region, with 'Making Love Out Of Nothing At All' being the last, and it only got to #80. It seemed unlikely that Air Supply would chart in the U.K. again, but they did when 'Goodbye' hit #66. After two weeks the song fell from the charts, but it was Air Supply's third most successful single in the U.K.. The 'Goodbye' CD maxi-single included the songs 'The Vanishing Race' and 'I'll Be Thinking Of You.' The U.K. became a thriving market for 3-track CD singles in the early 90s, whereas most of Air Supply's CD singles in North America contained just a single track, and were mostly used for radio promotion.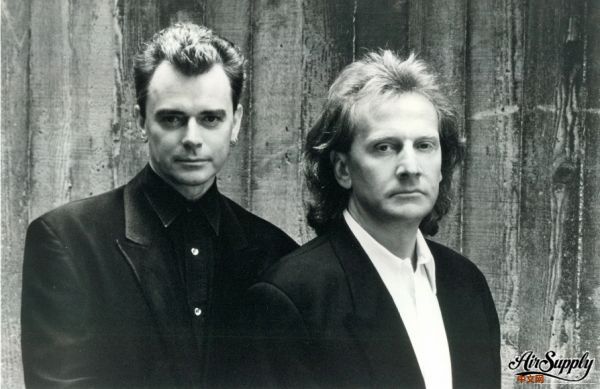 'Goodbye' was re-recorded in 1994 by Warren Wiebe for the One Life To Live soundtrack. Warren was mostly a session artist who was discovered by David Foster in 1987. Warren sang the original demo for the gospel sounding song 'Faith,' which was later selected as a track for Air Supply to include on 'The Vanishing Race.' Warren provided backup vocals on the final version of the song.

A tour of Latin America took place in June, taking the band to Peru, Argentina, Uruguay, Brazil and Mexico. In Argentina, where 'The Vanishing Race' was the #1 selling record for two consecutive months, Air Supply broke new ground by being the first western artist to play the cities of Comodoro, Bahia Blanca and Neuguen. The band was presented a double-platinum award from BMG Argentina for their 'Greatest Hits' album (120,000 units), and were notified that 'The Vanishing Race' had already been certified gold (30,000 units).

The concerts in Rio de Janeiro and Sao Paulo were Air Supply's first live performances in Brazil. Concert promoters arranged the tour because 'Goodbye' had taken radio by storm. In addition, Air Supply had a long list of hit singles in Brazil, including 'I Can Wait Forever,' 'Here I Am' and 'Without You.' Surprisingly, many of Air Supply's concerts in Brazil did not sell out. The promoters had been slow to advertise, and many fans were not aware that Air Supply was playing until last minute. Attendance improved as the tour progressed, but it must have been disappointing to not sell out in what was perceived as a hot spot for the band. In Rio de Janeiro, Graham wrote a song called 'Always.' "I had a beautiful room overlooking Copacabana Beach, and the moon was dancing over the sea," recalls Graham. "It was a little bit Debussy, whom I love."

Air Supply returned to Brazil for more concerts in October, and local fans rejoiced at the chance to see the band twice in the same year. The Latin America setlist for the June tour included seven songs from 'The Vanishing Race,' and hits from the 80s.

1993 Latin America Setlist:
1. Kiss Me Like You Mean It 9. I Remember Love
2. Making Love Out Of Nothing At All 10. Here I Am
3. Lost In Love 11. Don't Tell Me
4. The Vanishing Race 12. Goodbye
5. Sweet Dreams 13. The One That You Love
6. I Want To Give It All 14. All Out Of Love
7. My Best Friend 15. I'll Be Thinking Of You (Encore)
8. Evidence Of Love 16. Without You (Encore)

WEA, a subsidiary of Warner Bros. Records, was acting as the main distributor of Air Supply music in many countries. Giant Records became unhappy with the way WEA was handling its international distribution, so in 1993 they struck a deal with BMG to distribute its recordings outside of North America. Warner maintained manufacturing and distribution rights in North America. Air Supply's Arista recordings were already distributed internationally by BMG, and the company did an excellent job selling music in these regions. BMG was in the midst of growing its global operations and hired a manager, Australian David Bland, for marketing BMG products in Asia. Multimedia manager, Clive Gardiner, was hired to oversee the rapidly growing satellite and karaoke sectors. "If you are going to be a player (in Asian music), you need to be into all aspects of the industry, not just star creation," said Stuart Rubin, VP for A&R and marketing in Asia.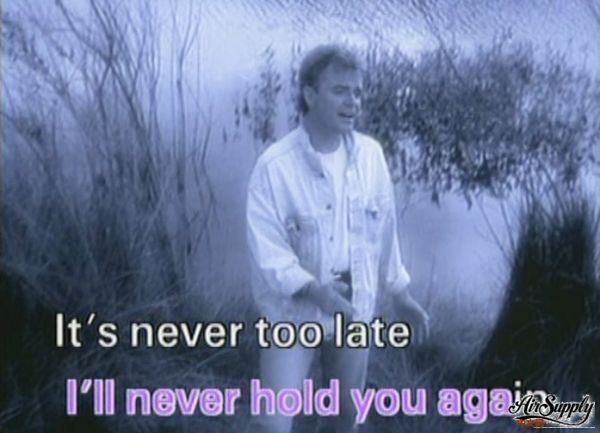 'It's Never Too Late' was the second single from 'The Vanishing Race.' It was released in Asia and South America exclusively, where it had significant airplay. Its promotional music video featured Jodi Russell, and was played heavily on television in these areas. The video was later included on the 1995 Asian-produced 'Now and Forever' karaoke LaserDisc and VHS. "'It's Never Too Late' is one of my favourite songs we have ever done," said Graham. "I loved the way the B section rose up and down at the same time, creating such a beautiful tension before the chorus just soared. The song is a single overseas and it's a big big hit over there. 'The Vanishing Race' has been out 4-6 weeks in the U.S. and it's got a real slow start, but in Asia and South America it's already number one. Our markets are different all over the world and we feel very fortunate to have alternative markets."

'Evidence Of Love' was the third single from 'The Vanishing Race.' The slow ballad was almost entirely ignored by radio, resulting in no chart success anywhere in the world. Perhaps an upbeat song, like 'Too Sentimental' or 'Faith' would have fared better? "The vibe in 'Faith' was kind of an Elton John kind of thing," said Graham, "which we wanted to have a go at. We wanted a shot at trying other styles. I like to have varied songs, not just the same song all the time. I think songs like 'Too Sentimental' are different for us, but it works and we love the way it came out."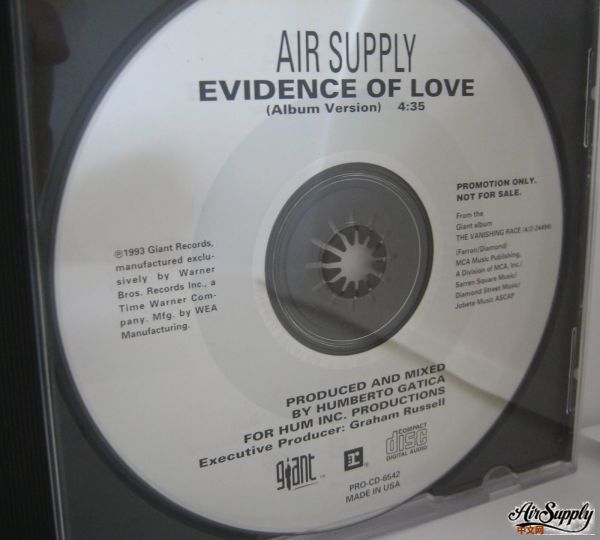 'Evidence Of Love' CD Single

'I'll Be Thinking Of You' is considered by many to be one of Air Supply's best songs, yet it was never released as a single. Its emotional and expressive vocal by Russell got a great response when played live. The saxophone and elements of enchanting rhythmic percussion throughout 'The Vanishing Race' gave it a contemporary feel, without losing the distinctive Air Supply sound. Russell confirmed that of all the Air Supply songs that were not released as singles, 'I'll Be Thinking Of You,' is his favourite. "Graham plays piano and I sing it near the end of our show," he said. "It is a very beautiful song. It has a great lyric and melody, which is the essence of what we do. It's just one of those songs that touched me personally. We love the atmosphere the sax creates. It's different for us, and adds a nice flavour without going over the top." "My favourite is 'I'll Be Thinking of You,'" says Graham, "by a long shot. It's a very deep spiritual song. The chords are very simple and lyrics are simple, bit it gets straight to you. For me, that was a milestone as a song writer, because it's just so simple and I love things that are simple that work."

Beginning July 10 through September 4, Air Supply toured the U.S. in an attempt to boost sales of 'The Vanishing Race.' "We just want to make people aware of the album," says Graham, "because some people are having difficulty getting it. In some locations you have to pay to get your record into stores. Competition is so fierce in records stores now because there is so much product out. A lot of stores will say, 'Yes, we'll take the album,' and they stick one or two albums in a slot somewhere. Then people don't know that the album is out. So that is our main beef at the moment. We know the album is a good album, because it's number one in the rest of the world, almost everywhere. So we just want to give it a fair shake. We tour extensively all over the world, [but] we're only doing four weeks here [in the U.S.]. Ten years ago we would have done ten months. In the 80s, we made a lot of money and we made a lot of friends. We're not money-motivated now. We can do things like 'The Vanishing Race,' which really took our fancy. We can do that now, but in the 80s we wouldn't have been allowed to do that. We would have had to stick to the merry-go-round of coming up with pop hits all the time. We like to do things now which mean a lot to us, and even if we don't sell a lot of albums in the U.S., we're doing something that we really believe in."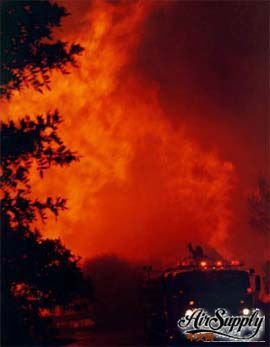 1993 Malibu Fire

On November 2, tragedy struck when Graham and Jodi's home was razed to the ground during the Malibu fires. Fires were not uncommon in Southern California, but the fire storm of 1993 was one of the worst in its history, burning more than 16,516 acres and destroying 739 homes in Central Malibu. Three lives were lost. Graham and Jodi escaped from the fire without injury. "I lost everything in that fire," explains Graham. "Good thing I didn't lose my wife and my pets. It was a tragic event that opened a whole new world for me when I touched the unknown. You experience something you've never felt before, which you'll never experience again. It goes right into your soul."

With their Malibu house destroyed, Graham and Jodi were forced to move into their vacation home in Park City, Utah. They had discovered the house in March of 1990, during a lull between shows in Las Vegas. Having spent very little time in Utah, Graham and Jodi rented a car and drove north to explore. They called a real estate agent out of the phone book and met him at the Wagon Wheel Cafe, where he proceeded to show them 30 to 40 houses that day. They ended up buying the first house they looked at, which included 120 acres. The house served as the perfect vacation home for three years, but was now their primary residence. "We just like the space and freedom," said Graham. "It's a fairly remote place, and I choose to live there for certain reasons. I don't like crowds but I do enjoy playing in front of people. I just don't like being in amongst crowds, and I think that stems from me being tall. I always felt like I stood out because I'm so tall, and I've been that way since I was 13. I also think that mankind needs to be close to nature in order to fulfill his destiny." Before moving to Utah, Jodi was involved with acting and was training with some of the top acting coaches in Los Angeles. "When we relocated to Utah, it was difficult to keep up my work in Los Angeles, and I thought my career was over," recalls Jodi. "I was soon fortunate to find roles in Utah, with parts on the TV dramas Cover Me, Touched By An Angel, and Everwood. There is a such a buzz on a set, it really is addictive. A lot of hard work with great people coming together with one focus to tell a story."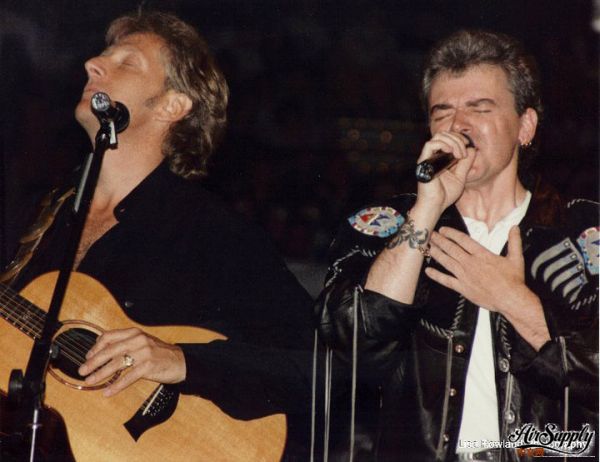 1993 Concert (Photo Courtesy of Lisa Rowland)

Before the Malibu fires, Air Supply was on tour in Asia to promote 'The Vanishing Race.' They performed in many countries throughout Southeastern Asia, including a sold out performance at the Harbour Pavilion in Singapore, on the same day that Sting played at the local Indoor Stadium. Concert attendance was overwhelming, as recent hits like 'Without You,' 'Goodbye' and 'It's Never Too Late' made Air Supply superstars in the region. Music reviews were mostly positive. A reporter from Singapore wrote:

Delivering a polished show that trotted out some of their best known songs, Russell and Graham demonstrated that unlike the image-oriented acts of today, they can actually hold their own on stage and even sound truly inspired. Watching them perform without the aid of the visual grandiosity that has become a norm in pop concerts these days, one realized that even music that is infused with saccharine can prove enjoyable if the artists dealing in it are honest in their intentions. Hitchcock was particularly outstanding, singing with passion and quite a remarkable degree of precision throughout. His partner, Graham Russell, who was either busy strumming an acoustic guitar or intensely caressing the keys of a piano, was less interesting, but he made up for his flawed performance with physical ebullience.




In 1991, Air Supply performed during the launch of the Hard Rock Cafe in Kuala Lumpar, Malaysia. The short and scaled-down performance became legendary with the locals. Air Supply was invited back in November of 1993, to perform and accept a gold record award from BMG Pacific for selling more than 17,000 units of 'The Vanishing Race' in Malaysia. But the tour of Malaysia was cancelled because the Malibu fire forced Graham back to Los Angeles to handle his personal affairs.

'The Vanishing Race' tour continued into 1994 with another visit to Asia, including Air Supply's first concert in Indonesia. In fact, Air Supply was being promoted as the first foreign pop band to play live in Indonesia. In anticipation of the event, HAI Magazine in Jakarta flew two music reporters to Arizona for an exclusive interview with Russell. It was a unique twist, as most promotion and interviews required Graham and Russell to travel. Russell and Rebecca picked up their Indonesian guests at the Flagstaff airport and took them to their favourite Chinese restaurant. After dinner, they did an interview with Russell in the comfort of his own home, and were introduced to his three dogs, one cat and two birds. A phone interview was later conducted with Graham from his home in Utah. The HAI Magazine reporters were more than impressed with the hospitality they received on their short visit, and wrote the following:
"We guarantee that Air Supply fans in Indonesia will enjoy the performance. We promise! We must acknowledge the fact that Russell Hitchcock is one of the warmest artists we have ever come across. He made us feel so at home."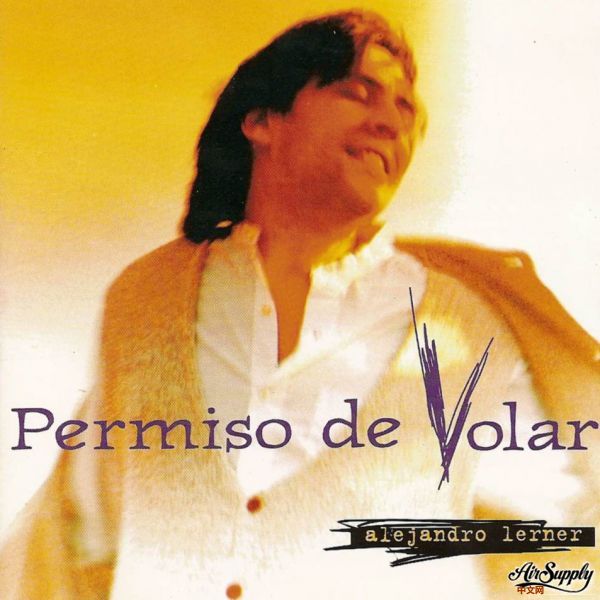 Alejandro Lerner

In 1994, Air Supply recorded a duet called 'You'll Never Know' with Argentine-born singer Alejandro Lerner. The song was a remake of Lerner's 1982 hit, 'Por Un Minuto De Amor' (Love In A Minute). Graham and Lerner wrote new lyrics, and the recording was included on the Humberto Gatica-produced album 'Permiso De Volar.' Lerner recorded his album in L.A. with David Foster, and was hoping to add some 'international star' flavour to his Spanish recordings. Gatica and Foster knew how influential Air Supply was internationally, so they arranged for them to join forces with Lerner. It was an ideal partnership because both artists specialized in romantic music, and were both signed to BMG. Lerner was considered a superstar in most of Latin America and Spain, but was not popular elsewhere. "I'm learning a lot from playing in other countries, and recording with real giants," said Lerner. "A big step like going international may finally take place." 'Permiso de Volar' was considered a big success for Lerner and Gatica. It went platinum with over 60,000 units sold in Argentina and over 250,000 in Latin America. 'You'll Never Know' did not become an international hit, but it was considered one of the strongest tracks on the album, and was later included on Lerner's hits collection, 'Grandes Exitos 1988-1994.'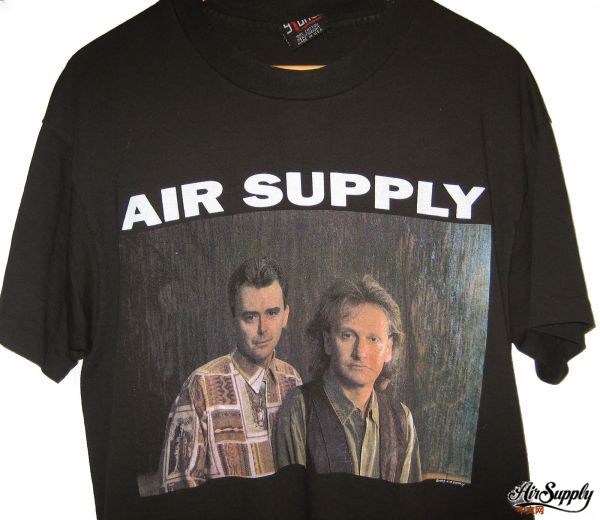 1993 Tour T-shirt

Air Supply toured the U.S. in the summer of 1994 as part of a twin bill with Canadian pop singer Dan Hill. Between shows, Graham wrote new songs for the forthcoming album, which was expected for release in early 1995. It was to be the first Air Supply record produced entirely by Graham. "It's something I've always wanted to do," he said. "But I feel capable of being a producer now since I have a lot of confidence. I don't know if I will be producing all the future albums, but I like producing. I think we've reached a stage now, in our career, where we don't necessarily have to cater to a lot of public demand. We don't get the record company saying, 'Well, you've got an album loaded with singles,' or, 'Radio's not going to play it.' We pretty much can please ourselves, which is a nice space to be in after going through the pop thing and the fame and the fortune and come out the other end, reasonably intact."

The Air Supply production entourage became more self-sufficient, with less involvement from the record label. Graham's son, Simon Russell, assisted in the recording studio, and hoped to make significant changes to the fan club in 1995. Russell's girlfriend, Rebecca, worked as the front-of-stage live sound technician. The current setup of Air Supply musicians were a tight-knit group, who had been friends for many years. Billy Sherwood was the newest musician to join, and he played a major role on several new songs. Billy, who is Michael Sherwood's brother, was a member of the band Lodgic with Jimmy Haun, Guy Allison, and Michael Sherwood. When Lodgic broke up, Billy, Guy Allison and Mark T. Williams created the band World Trade. Like his brother, Billy was a multi-talented musician who played several instruments and was experienced in studio engineering.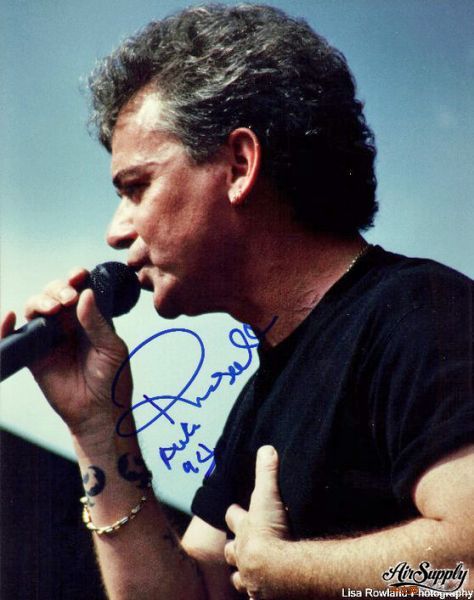 (Courtesy of Lisa Rowland - 1994)

"Because Air Supply is a very closed entity," says Graham, "the less number of people that come in from the outside, the better off we are, because we understand Air Supply better than anyone else. In the past we have had producers that say, 'Yes, I understand the way you want to go,' and we make a record that's never sounded like we wanted it to sound. We make a lot of demos before we go into record and, in a lot of cases, the demos have sounded better than the album. I didn't want that to happen with the new record. I am sure we will work with different producers in the future, but until someone comes along who can share that vision, I don't think it will happen. Plus they want too much money. They want a third of the album budget. It's not fair. The budget for the album should be to make an album, not to give somebody enough money to buy a Porsche! We don't cater to any trends. We just do what is us at that time. There are some territories where the album sold ten times what the previous one did, in some territories it didn't. You win some and you lose some."

According to music industry experts, Graham's decision to produce the next Air Supply album was a risky endeavor. There often exists a love/hate relationship between producer and artist, but there are reasons why some of the most popular producers are paid $150,000 and more to produce an album. When an artist signs with a major label, they are essentially signing a contract that says, "Yes, we want to make records that sell in large quantities." The producer is hired as the expert consultant toward that goal. Artists also want to sell lots of records, but they often want to create something avant-garde or non-commercial. In the book Confessions of a Record Producer, Moses Avalon discusses the risks of artists producing their own records: "As artists get more successful, they usually try to exercise their muscle by taking more control over the production of their record. Most of the time, self-producing is a formula for disaster. It tends to have the same effect as a person giving themselves a haircut without a mirror. Sometimes it works well; there are some artists who have excelled at producing themselves. But most artists, even many who've been making hit records for years, hire people to at least co-produce their albums. The producer acts as a sounding board for the varied and sometimes conflicting ideas that the artist has for the songs. Often, the producer will help arrange the material, and sometimes he or she writes bridges for songs that are missing that 'certain something.'"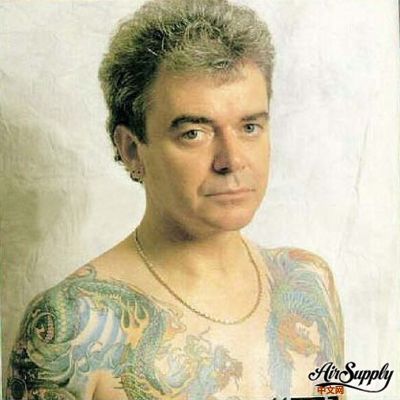 While Graham worked on the new album, Russell kept busy with some interesting side projects. One of those involved recording a second solo record with former Air Supply bassist Don Cromwell. They recorded a 10-track demo with songs written by Cromwell and Rick Barron, but it was not picked up by a label, and was shelved indefinitely. Another project of Russell's did come to fruition in 1994, when he and his girlfriend Rebecca appeared in an issue of International Tattoo Art. Russell was featured in an article titled, 'The Lost Sheep of Air Supply,' in which he displayed his many tattoos. International Tattoo Art interviewer Jeff Hickey was rather shocked at the number of tattoos on Russell; "Somebody had said to me, 'You should check out Air Supply. They have more tats than anybody.' We're like... your lying. They do not. It turns out they did. It was just crazy that it was Air Supply. You would never expect Air Supply to have more tats than Motley Crue. [Russell] was really nice. He put my mom on the guest list for the show in New Hampshire."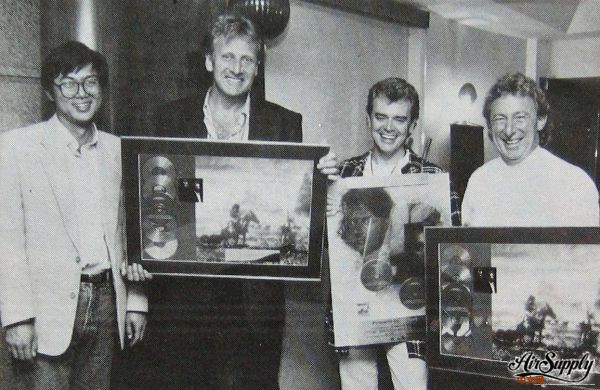 'Vanishing Race' sells 450,000 units in Asia - June, 1994

Several events were occurring in the Asian music scene that were setting the stage for a very successful period for Air Supply in the region. China, the largest music market in the region, was allowing more international music labels to establish affiliates in the country. Very few foreign artists were able to to crack the Chinese-language market in the past. BMG, who was heavily promoting Air Supply in most of Asia, signed Chinese movie star and singer Ekin Cheng, better known as Noodle. His single, 'On Stage,' was the first top ten hit for BMG in Hong Kong, and it allowed the music label to establish a presence in China. "It was a payoff for a lot of effort, but, more importantly, it put us in the market....finally," said Sandy Lamb, general manager of BMG for international and domestic pop. Air Supply now had a direct link to the Chinese market thanks to the success of BMG. Playing live in China was something Graham and Russell wanted to do for several years, and the recent changes in the country, and the popularity of romantic ballads in the region, made this a possibility. But a tour of China was still considered a monumental task.

The only Western pop band to play live in China was the U.K. band Wham! They played several shows over a ten day period in 1985, and experienced many political and social obstacles. "We were followed around by the army everywhere," recalls Wham! backup singer Helen 'Pepsi' DeMacque. "It was an eye-opening experience. The front four rows were just men in uniform, totally deadpan. So we went on stage in front of all these communists singing I Don't Want Your Freedom. Up in the far corner of the auditorium were these young kids dancing, but the uniforms were quick to move towards them, and they were eventually taken out." Despite the cultural challenges, the short tour of China was considered a tremendous success for Wham!.




Axis Records 1994, EMI/Big Time 1996, Teal Trutone Music 1994

There were no Air Supply compilations released in 1994, but it was common in the mid 90s for record labels to reissue older vinyl onto CD. Axis Records and EMI reissued 'Life Support' in Australia, making it available on the preferred CD format for the first time. Axis Records was a budget-priced label based in Sydney who released mostly reissues and compilations, but also recorded and released a few albums specifically for themselves. 'Life Support' was also reissued in South Africa by Teal Trutone Music. EMI Australia and Big Time Records reissued 'Life Support' on CD again in 1996 with different cover artwork, but this later release did very little to alleviate demand for 'Life Support' on CD.