Chapter Twenty-One: Runs With The Wild (1997-1998)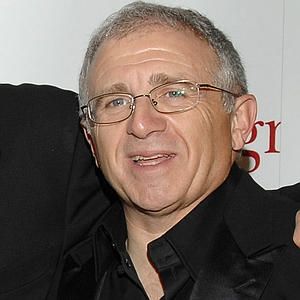 Irving Azoff

Giant Records experienced a major shakeup in the mid 90s, and was a much different company by 1997. The head of Giant Records, Irving Azoff, was not happy with the shifting management at Warner Bros., which included the removal of Warner co-chairmen Lenny Waronker and Mo Ostin. In an attempt to revive his company, Azoff replaced most of his staff and changed the Giant name to Revolution in March of 1996. But the Giant name continued to appear on releases created prior to the changeover. The company's Nashville division, and a few other artists including Air Supply, kept the Giant logo indefinitely. The announcement of the name change came after the company re-signed new deals with Warner and WEA in the U.S. and BMG internationally, under a pact that extended into 2000. Revolution focused mostly on alternative country and singer-songwriter rock artists."It was a combination of the A&R department, me and Irving," said Revolution's senior creative executive Missy Worth. "We really felt that we wanted to start anew entirely, and it starts with the name."

Giant had stretched itself too widely in the early 90s, and many of its artists left the label after releasing just a single album. In some cases, label politics prevented the release of follow-up albums, which ended up never being released. Air Supply's contract with Giant called for seven albums, thus three remained. Unfortunately, there was very little money allotted to promote Air Supply's next record in North America, despite the best intentions of Azoff, who considered himself extremely loyal to his artists.

Air Supply toured Southeastern Asia for most of January, including a New Years Eve performance at the Sunway Lagoon Resort Hotel in Kuala Lumpur. The event featured several performers and a dinner to help raise funds for the National Kidney Foundation. Air Supply took the stage at 11 p.m. and got mostly rave reviews from local music critics, although some expected something new since Air Supply were now frequent visitors to Malaysia:
The crowd went wild and it seemed to be an almost impossible task to make them settle down. The rendition of the ballads - especially the more familiar ones like 'Every Woman In The World,' 'Sweet Dreams,' 'Even The Nights Are Better' - was brilliant. Russell's silken vocals sounded the same after all these years. But there was really nothing special about their show. Their 45 minute performance was like all their previous concerts. But to those at the hotel's plush ballroom, that didn't matter at all. When the duo were set to leave the stage, they screamed for the show to go on. - Hafidah Samat, New Straits Times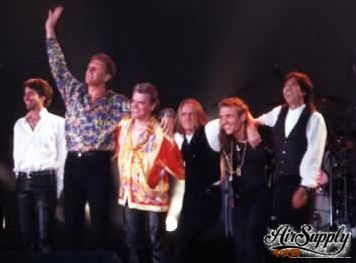 Rex Goh & Chris Pellani - Asia '97

The tour of Asia in 1997 included the return of Rex Goh on guitar, and was the first overseas tour for drummer Christopher Pellani. Pellani had played concerts with Air Supply during the U.S. tour in 1996. He was considered an exceptional percussionist, and was chosen as one of ten outstanding drummers in BAM Magazine's November 1993 article on 'Unsung Drumming Heroes of Los Angeles.' Pellani and Air Supply bassist Cliff Rehrig were once members of a pop band called Planet 10, who released an independent album in 1990 titled 'Birdhouse.'

Meanwhile, Rex Goh was having his own success; he played guitar on the first two hit singles from Brisbane based band Savage Garden - 'I Want You,' and 'To the Moon and Back.' In May of 1997, 'To the Moon and Back' was the most played song on U.S. radio, and the self titled debut album eventually sold over 18 million units. Goh's tour of Asia with Air Supply in 1997 was not his first reunion with the band. After leaving the group in 1978 to study jazz at the New South Wales Conservatorium of Music in Sydney, he rejoined in 1980, and was a vital part of Air Supply for three years. After leaving Air Supply in 1983, Goh formed the band QED, a New Wave trio which included singer Jenny Morris and bassist Ian Belton. Their first single, 'Everywhere I Go,' reached #5 on the Australian Top 40. "After leaving Air Supply, I had to do things," said Goh. "I wanted to get back into a band badly, but not just any top 40 band. I had to do something original. I matured with Air Supply up to a point. You mature with everything you do. When you do a new thing, you sort of mature with that new concept, and once you've had enough of it, like me, you move on to something new and develop that within yourself."

Perhaps the highlight of the Asia tour was Air Supply's first visit to Vietnam. Although they were not the first Western band to play communist post war Vietnam (Bryan Adams played Ho Chi Minh City in 1994), it was still considered a rare and somewhat risky experience. Bryan Adams witnessed some shocking events during his concert when police used electric cattle prods for crowd control, and the ballroom's one and only door was locked and fortified so that no one could enter or leave during the show. Another challenge of performing in Vietnam was that all the stadiums and venues in the country were meant for the people, and so their use was almost always free. Artists had to work with the promoters and government to determine how much to charge the public, who mostly live in abject poverty. These conditions made it very difficult for bands to make money in Vietnam, so there was little incentive to tour. Regardless, Bryan Adams opened the door and other acts soon followed, including Leo Sayer, Lobo, and John Denver. Air Supply was one of the first bands to perform in North Vietnam, when they played to a sold out crowd in Hanoi. "We got to see a lot of the city and the Hanoi Hilton Hotel, which was really depressing," said Russell. "They are wonderful people [in Vietnam], but the place is just starting to pick itself up and get into this century."

Air Supply were not sure what to expect from the crowds in Vietnam because their music was never officially released in the country. Up until 1997, Vietnam had no official distributors of music, so all existing CDs and cassettes were pirated copies brought in mostly from China and Thailand. It was not easy for some fans to find these pirated CDs because they were mostly sold in flea markets in Ho Chi Minh City or Hanoi. When PolyGram and EMI struck deals to distribute music in Vietnam in 1997, many Western artists knew the potential revenue a population of 74 million could generate. Not surprisingly, the Vietnamese fans who attended the Air Supply concerts knew almost every song and erupted when they performed the Asian hit 'Goodbye.'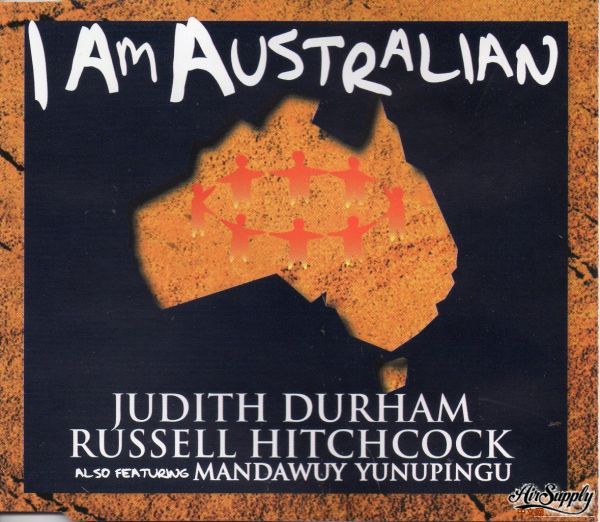 3-Track CD Single - EMI

When Russell was in Australia in 1996, he was invited to sing with fellow Australian singers Judith Durham and Mandawuy Yunupingu on a remake of the popular and patriotic song 'I Am Australian.' Charles Fisher, who had produced Air Supply in the late '70s, produced the track and arranged for Rex Goh to play guitar. "It's very Australian," said Russell. "It talks about Aborigines seeing the tall ships arrive from England. Being a prisoner on the ship and how hard it was to defeat the land. It's a very pretty song, although it might never be heard in America."

'I Am Australian' was written by Bruce Woodley of The Seekers and Dobe Newton of The Bushwackers in 1987. Its lyrics and message became so popular that it is often considered an alternative to the official Australian National Anthem. Judith Durham wanted to release a new version of the song after Independent Queensland MP Pauline Hanson used an earlier version to launch her One Nation party. Songwriter Bruce Woodley had asked Ms Hanson to stop using the song at her rallies, saying she ignored its message promoting multiculturalism and Aboriginal reconciliation. Durham said she hoped 'I Am Australian' would bridge the divide in the community. "This song is not meant to be about politics," she said. "But the release of the song it timed to celebrate the anniversary of Aboriginal Australians being recognized as citizens and allowed to vote. We hope this song will unite people who feel that there has been a division between Australians." There were several versions of 'I Am Australian' released in Australia, but none did as well as the 1997 release from Judith, Russell and Mandawuy. EMI Australia released the song on May 26 as a 3-track CD single ('Radio Single Version,' 'Band Track' and 'Little Australian Version'), and it quickly climbed the national charts, reaching a high of #17. Judith later included the song on her 1998 album titled 'Always There.'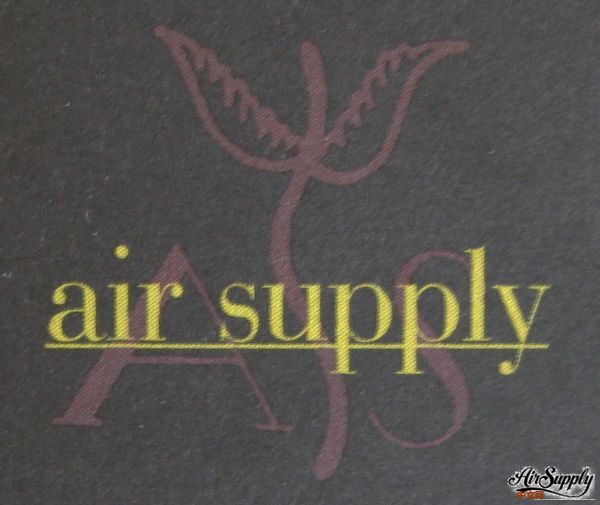 A Nice Pear & Air Supply Logo

There was much activity at Graham and Jodi's Utah home/studio during the summer months. The next album was being mostly recorded and produced there. It was the first Air Supply album recorded at Graham's new studio, which he named Runs With The Wild. In keeping with the momentum of moving Air Supply into a self contained unit, Graham, Jodi and Barry Siegel created a production company called A Nice Pear Inc. With the ongoing concern over the struggles at Giant, and the lack of support they were receiving from the label, Graham hoped to promote and release Air Supply material under his own label in the future. He insisted that despite his desire to start fresh under his own label, Air Supply would not quickly release inferior records to simply fulfill their obligation to Giant Records. New records would only be released when the band felt they had something important to say and share with their fans."You have to earn the right to produce," notes Russell, "and Graham has done so. This new album will be our 17th album in the 22 years that we have been together, and he has written about 95% of every album, which is quite an accomplishment."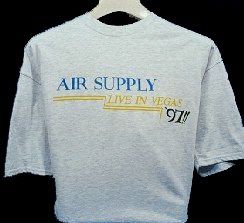 Vegas Tour Shirt - 1997

Air Supply hoped to release their next album in the summer, but it was still a few months away from being complete. One of the songs in pre-production was the band's first ever instrumental track called 'Once.' "That piece was written by Jed and Graham and actually had lyrics," said Russell. "Graham usually goes into the studio and sings the song and puts down a rough vocal for me, and I will go do my thing with it. So he went into the studio to sing the lyrics for this piece, and when he came out I said, 'I don't think we should have any lyrics on this song because it's too pretty. I think the words are getting in the way.'"

The recording process was a reunion of sorts. Larry Antonino, Michael Sherwood, Michael Thompson, Guy Allison and Rex Goh all contributed in the making of the album. "Rex played guitar on this record," says Russell. "We actually hooked up with him the last time we were in Australia, and then he toured Asia in January with us. We have always thought the world of his playing, so why not see if wants to do some stuff on the album. Michael Sherwood was a member of Air Supply a few years earlier. He, Graham and myself seem to have a nice blend when we sing together, and when we were doing the vocals for our new album, someone said we should try and do something like the Eagles and Bee Gees kind of sound (the beejeagles)." As the album neared completion, new artwork was conceived and photographed in the Uinta Mountains, in Utah. "The album is to be called 'The Book Of Love,'" said Graham. "Fourteen tracks have been recorded, and it will probably be narrowed down to twelve or thirteen. 'The Book Of Love' came from a poem I was writing once again in a dream. I woke up and could remember it exactly."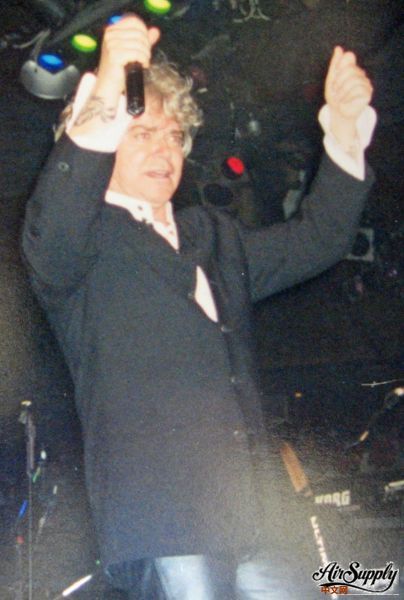 Photo Courtesy of Debbie Cooper

Air Supply wrapped up their summer tour of the U.S. in October. Despite not having any recent hits in North America, concert attendance was considerably strong, thanks to an obsessively loyal fan base. They performed mostly at smaller capacity venues like casinos and summer festivals, with larger arena and stadium concerts of yesteryear now reserved for Asia and Latin America. Casino concerts can be a mixed blessing because they often have plenty of half-hearted fans, who come mainly to gamble and catch whatever show happens to be playing that night. These fans want to hear the hits and nothing but the hits. This became painfully obvious during the U.S. tour, as crowd excitement dropped whenever a new or unfamiliar song was performed. Air Supply had no intention of playing just their hits because they enjoyed creating new music and most certainly did not consider themselves to be a washed up band. "We've never been ones to live in the past," says Russell. "We've played material off every CD we've ever released. We don't ever want to be considered retro or nostalgic or any of those horrible terms."

In two performances at Kewadin Casino's new Dreammaker's Theater recently, over 800 fans witnessed the high energy performance and light show of Air Supply. [They] performed many of the Top 5 classics such as 'Marking Love Out Of Nothing At All' and 'Lost In Love' as well as some of their new songs like an upbeat South American-style song entitled 'We The People.' Air supply continuously kept the crowd in the performance by encouraging them to sing along, blowing kisses in the air to adoring fans, and near the end of the performance bringing one fan up on stage to be serenaded by the song 'The One That You Love.' The performance was also highlighted by an exciting piano solo that ended with the crowd in a standing ovation. The group is expecting a new album, 'The Book Of Love,' to be released in November or January. - Elissa Gray, Evening News
Finding the perfect set list was a real challenge for the band. In a sense, they had become prisoners to their own hits, created from their massive early success and the refusal of North American radio to play their recent singles. "It really is a mystery to us," ponders Russell. "We have been around a long time, and have had lots of ups and downs in our career, but we still produce good music. When you look at stuff on the radio anywhere in the world now, and play some new Air Supply material, it's as good as anything out there. But it just can't get played."

Radio had turned on Air Supply, but the duo were still much admired and recognized in the U.S. "I can't go to an airport, seven times out of ten, without someone saying, 'You look like the guy who used to sing with Air Supply,'" claims Russell. "People pursue the conversation, and they're surprised to hear we're still making records. It's frustrating. This is 22 years this year we've been working together, and we obviously know the ins and outs of the business. It's pointless getting upset over something you can't control."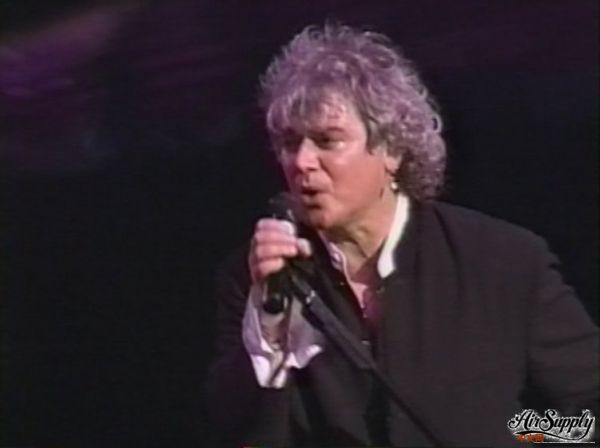 Comcast Exclusive - 1997

Air Supply and television cable provider Comcast joined forces with the intention of releasing a reissue of the 'Greatest Hits Live' album in North America. The 1996 'Greatest Hits Live... Now and Forever' CD sold quit well in the States, but it contained fewer tracks than the international version. Comcast believed that a revised version, containing the entire Taipei concert would be popular with fans. To help promote the project, Comcast sponsored a live Air Supply concert in August from the Pier 6 Pavilion in Baltimore, Maryland. On September 7, Comcast televised a recording of the event, omitting a few of the newer songs that they had performed, and including an interview with Graham and Russell and a twelve minute version of the song 'Someone.' "Tonight is very special for us because it's a concert being filmed in conjunction with releasing our Greatest Hits album that we did in Taiwan a few years ago," said Russell. "This is a chance for our fans and people who enjoy music to pick up an album. Comcast has made this available to everyone in the U.S., and it's very exclusive. There are some songs on this album that were not released in the U.S., so it's peoples first opportunity to hear the whole concert that was performed in Taipei. We thank Comcast for getting involved with us and helping to expose it to the world." The CD was to be called 'Air Supply's Greatest Hits,' but it was never released because Comcast and Giant could not come to terms on a distribution deal.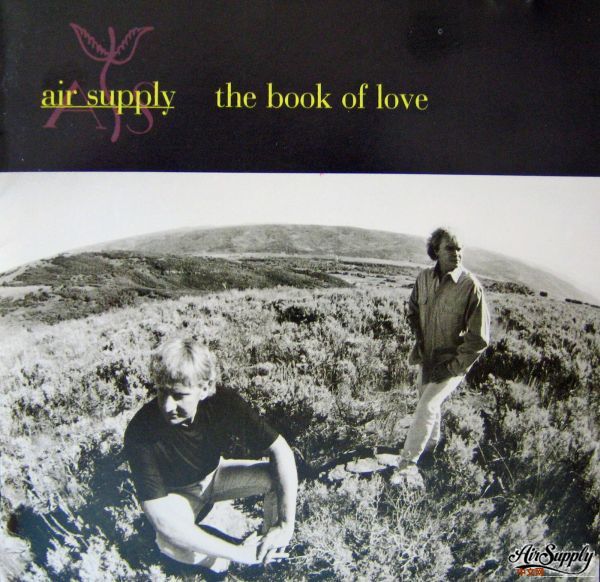 Giant Records released Air Supply's new album, 'The Book Of Love,' in North America and other regions on November 21, 1997. There was very little hype or promotion surrounding the album in North America. Giant was in no position to support the band like Arista had done in the 80s. Musically, 'The Book Of Love' was unlike any previous Air Supply record. Consisting of ten songs, of which two are almost entirely instrumental, the album was a departure from the bands trademark sound of highly produced and orchestrated power ballads. The first two singles, 'So Much Love,' and 'When I say,' both featured an acoustic feel with haunting melodies. With the exception of the mid-tempo song 'We The People,' the entire album was like the two singles. The album revealed a more serious side to Air Supply and also to Graham's lyrics. 'Mother Said' is an autobiographical song that Graham wrote about the passing of his mother, and it has become a favourite for many Air Supply fans. The song was first heard in 1996 when it was included as the hidden bonus track on the 'As Close As This...' CD ROM. "I think anyone who likes Air Supply will enjoy the new record," said Russell. "We are doing some things that are a little different for us. Different rhythms and feels for songs, and obviously there are a lot of ballads on the record because that's what we do. We like to think that with every record we've matured a bit."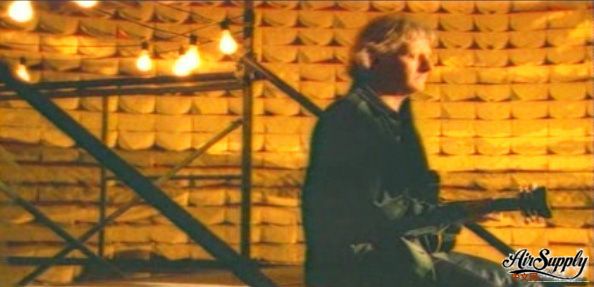 'Strong, Strong Wind' Video (Giant Records 1997)

Giant and BMG released 'The Book Of Love' internationally in early December, and it was promoted quite heavily in some countries. The CD featured an additional track called 'Strong, Strong Wind,' which was not included on the North American release. The song was written by Diane Warren, who had sold the North American song rights to American rock band Heart; they released it as a single, and later included it on 1998's 'Heart - Greatest Hits.' Air Supply released 'Strong, Strong Wind' as a single in some parts of Asia with an accompanying music video. The video was filmed in Dallas, Texas on November 13, and it helped propel the song into the Taiwan and Hong Kong charts. On December 31, 'Strong, Strong Wind' was #1 in Hong Kong. 'The Book Of Love' failed to have any singles reach the North American charts, and many fans in this region were confused and disappointed that one of the strongest tracks ('Strong, Strong Wind') was not included on the CD.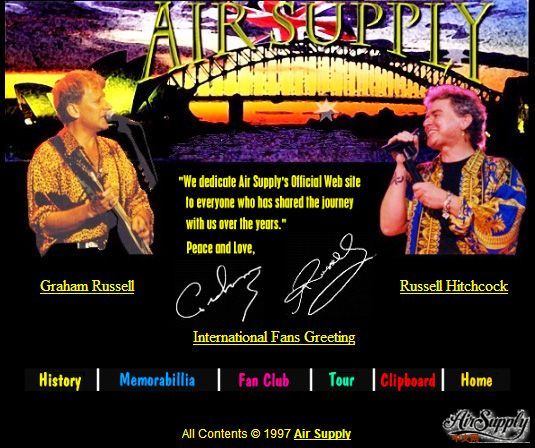 Air Supply Website - 1997

Air Supply fans were able to communicate with one another in 1997 thanks to emerging Internet tools such as forums and chat groups. The revamped Air Supply website, which won Site of the Week in the 34th week of 1997, featured a clipboard which fans used to discuss all things related to the band. A topic of debate was people's reaction to 'The Book Of Love.' Some fans said that, upon first listen, they were somewhat disappointed because the music was too melancholy and even spooky in parts. Others ranked the album as their favourite Air Supply record. There was also discussion about the apparent change in Russell's voice. There was now a slight raspyness in his upper range, which was also noticeable in the live shows during the second half of 1997.

Despite the benefits of the clipboard, the negativity from a small minority of fans soon forced its closure. Air Supply issued the following statement:

As far as the website is concerned, it has been a giant headache for us. We are still speaking with a number of people about its reorganization. We plan to shut down the clipboard for a short time, but maintain the site. There is still far too much negativity and vitriol posted by a few disgruntled fans who, unfortunately, spoil it for the majority of you who use it as a positive means of communication.

Much of the negativity on the clipboard centered around incidents involving the lifetime backstage passes sold through the fan club. "For varying reasons it is impossible for us to have fans backstage at every concert," said Russell. "Graham and I will now be directly involved with the fan club, starting with some major adjustments. We are requesting that those who hold lifetime backstage passes, please return them for a full refund. Rather than hurt anyone's feelings, we are terminating the backstage pass concept. After the 'Elgin' incident, it was obvious that it is impossible to honour these passes at every show." The Elgin incident occurred years earlier in Elgin, Illinois, when disgruntled Air Supply fans created a ruckus after learning that there would be no meet and greet after the show. A group of fans went so far as to block the band's limos from leaving the theatre, and shouted angrily when they eventually drove off.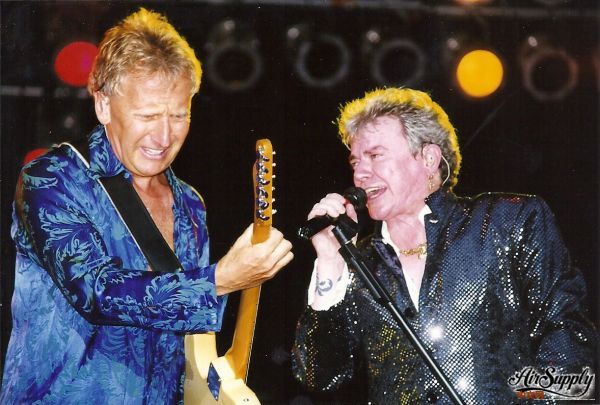 Orleans Hotel - 1998 (Courtesy Laurie Frank)

Regardless of what Air Supply fans were saying, music critics who were clearly not fans themselves, were quite impressed with the new album:

'The Book Of Love' is a serious attempt by Air Supply to regain their position as pre-eminent adult contemporary artists. During the early 90s, they released a couple of records that went ignored, but none were as carefully-considered as 'The Book of Love,' which places them squarely in the 90s pop tradition, instead of finding them stuck in the 80s. That alone makes the album worthwhile, but it doesn't excuse the uneven songwriting. There's a few songs that are sparkling updates of the Air Supply formula - 'So Much Love' and 'When I Say,' appealingly melodramatic and sappy ballads that work - but there are more that simply fall flat. Still, the very fact that some of 'The Book Of Love' works makes it Air Supply's best record in nearly a decade. - Stephen Thomas Erlewine, All Music Guide

On November 20, Graham and Russell travelled to India for a four-day promotional tour in support of their new album. Air Supply's popularity in India was at an all-time high thanks to promotional work by BMG and Crescendo Music, and also Air Supply's performance at the 1996 Channel [V] Indian Music Awards. At a press conference in Mumbai, the duo said that India had some of the finest supporters for their music in the world, and that this prompted them to come here for the album release. "We took six months to make it, and are very proud of the album being released here," said Graham. On December 7, Graham and Russell continued their promotional tour with a four-day stop in Malaysia. This included several radio interviews and an in-person visit to Tower Records in Kuala Lumpur.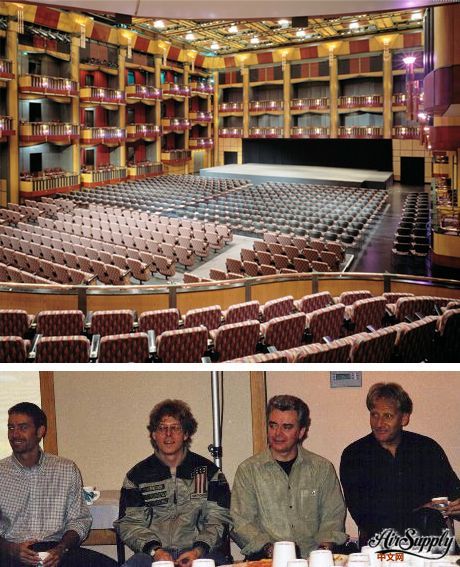 Fan Q&A Session (Courtesy Laurie Frank)

Upon returning to the States, Air Supply prepared for a December 20 holiday concert at the Hemmens Cultural Center in Illinois, when an opportunity for an extensive Australian tour arose. They rescheduled the Illinois show and travelled to Australia to play most of the major centers, including a New Years Eve performance at the Sydney Harbour Casino. As 1997 drew to a close, Air Supply's tour schedule showed no sign of slowing down. "From here we go into Melbourne and finish in Australia on January 12 [1998]," said Russell. "We then go back to Los Angeles for about five days. We then fly to Singapore for a couple of shows and then back to Los Angeles for two more in January. Then we start an intensive Asian tour on March 1."

The tour of Australia got rave reviews, especially from the media who were critical of the band during their previous tour in 1996:
Clearly there was nothing wrong with the crowd at the Hilton, for they lapped up Air Supply's 90-minute show, from the tunes to the stage banter to the digs at the media. The duo's support might be waning in Australia (Asia is their big market now), but those who have stuck by them are as staunch as ever. Opening with the title track from their 1993 album, 'The Vanishing Race,' Hitchcock and Russell started on a rock-flavoured note, backed by a local three-piece ensemble. Two decades of performing experience haven't been wasted on the pair, and Air Supply quickly slipped into a triple bill of their best-known fare - softer, romantic ballads. 'Here I Am,' 'Even The Nights Are Better' and 'Two Less Lonely People' all drew a predictably warm response from the crowd, and Hitchcock and Russell began to hit their straps. Russell acknowledged the act's romantic reputation, saying he and Hitchcock only recognized it 10 years ago - about a decade after everyone else had. 'It's a handle we've grown accustomed to, and we rather like it,' he added, albeit defensively. It was a relief to hear them accept that mantle, unlike their last Australian concert tour in 1996, when they half-pretended to be a rock band. No one wants Air Supply to go grunge. - Darrin Farrant, The Age

On January 31, 1998, Air Supply hosted a fan club gathering at the Cerritos Center for the Performing Arts in Cerritos, California. The afternoon event preceded two sold-out concerts and included fans from all over the world. After a lengthy Q&A session with the band, fan club president Simon Russell raffled off several items, including 8X10 photos, CD singles, tour jackets and promotional ink drawings of 'The Book Of Love' CD cover. Fans who attended the concerts heard Air Supply perform the song 'Sunset,' which had not been part of the set list for many years.

After five years in Arizona, Russell moved back to Los Angeles after his relationship with Rebecca ended in 1996. The pain caused by another failed relationship was evident in concert when Russell told the audience that he was to blame. He proceeded to sing 'Daybreak' with tears in his eyes. Graham and Jodi returned to England to further their studies with historical author Graham Phillips, including additional research for the Robin Hood project.

May, 1998 Concert Set List:
1. The Vanishing Race 2. Lost In Love
3. Here I Am 4. Even The Nights Are Better
5. Two Less Lonely People 6. Someone
7. Mother Said 8. Don't Be Afraid
9. Sweet Dreams 10. Every Woman In The World
11. The One That You Love 12. Making Love Out Of Nothing At All
13. We The People 14. All Out Of Love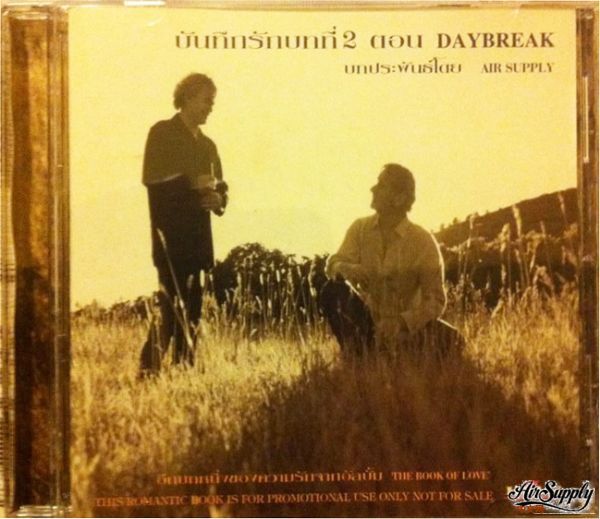 'Daybreak' CD Single - Thailand

Air Supply completed a tour of Asia in March of 1998, where they released 'Daybreak,' the final single from 'The Book Of Love.' It failed to chart in the few Asian countries that it was released. In April, the band began a lengthy tour of the U.S. They performed at The Orleans Hotel & Casino in Las Vegas in May, a location they would return to frequently. The set list for the 1998 tour included most of Air Supply's biggest hits from the 80s, but also a few songs from the new album, including 'We The People' and 'Mother Said.' The live show focused less on new material compared to earlier promotional tours in support of new albums. Air Supply performed a new song in the fall of 1998 called 'The Scene,' giving fans hope that a new album might be on the horizon.

Audience members, a preponderance of whom were female and fortysomething, came out to hears songs beloved ever since they were recorded in the early 80s. All such wishes were granted as the Australian group played nearly every hit in its catalog in the 11-song set, beginning with its first big hit, 'Lost In Love.' Hitchcock's voice still rings with a familiarity that hearkens back to the band's halcyon days, though it has clearly lost some of its fullness. The stage show was not what might have been expected, full as it was of rock-oriented trappings. Graham Russell adopted the Pete Townshend guitarist's hop for the evening's big energy number, 'We The People.' He also walked among the crowd during an atmospheric if less than proficient guitar solo, wherein he stopped at a nearby table to drink from an audience member's wine glass. - Thomas Kintner, The Hartford Courant

80s music experienced a resurgence in 1998, thanks in part to movies such as The Wedding Singer. Air Supply's biggest hits from the Pac-Man decade were suddenly hip again, as a wave of nostalgia swept across North America. It was not uncommon to hear 'Making Love Out Of Nothing At All' on the radio again, sharing the airwaves with the most popular bands at that time, such as the Spice Girls, Backstreet Boys and N*Sync. When asked what it felt like to be hip again, Russell laughed and replied, "First of all, we were never hip. So I guess it feels great. I've always thought that music and fashion were cyclical." Russell admits to watching Spice Girls videos and listening to their music in his car, largely because his 10-year-old daughter Sydney is crazy about the British all-girl band. "I quite enjoy it," he said. "Except when I have to hear a Spice Girls song six times in a row!"