Chapter Twenty-Two: Side Projects & Greatest Hits (1999-2000)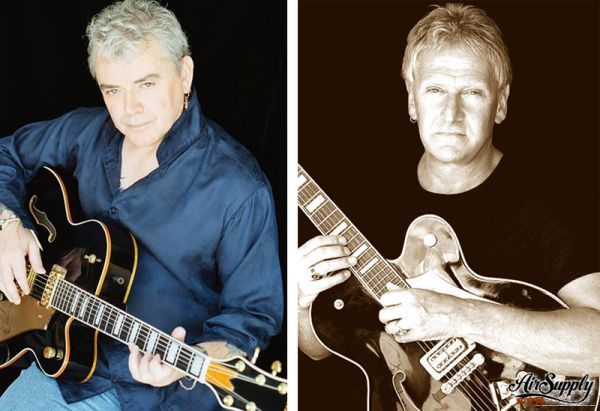 Early Promo Photos For Forthcoming Album

Work on a new Air Supply album was well under way in early 1999, but its release date was pushed back when Arista decided to release a comprehensive hits collection in North America. The band did not want to have conflicting projects, so the album of new material was to be delivered to Giant Records in early 2000. Graham and Russell were personally involved in putting the hits collection together, and were determined to include the original Australian version of 'Lost In Love' on the CD, but neither the band or Arista had access to a digital recording of the song. When Air Supply held their second fan appreciation day at the Orleans Hotel & Casino in May 1999, Graham asked if he could borrow a copy of the 'Life Support' CD, which contained the original version of 'Lost In Love.'

Air Supply toured throughout the U.S. in the summer of 1999, including multiple dates in Las Vegas. In June, they co-headlined a large concert with Rick Springfield in Kettering, Ohio. Tickets to the show were rumoured to be selling for $250. Springfield, who had not toured in eleven years, performed songs from each of his early 80s albums and his current single 'It's Always Something.' Air Supply performed a condensed set list of nine songs, including their newest tune 'Only One Forever.' The Kettering show featured Christopher Pellani on drums, Jed Moss on piano and Cliff Rehrig on bass.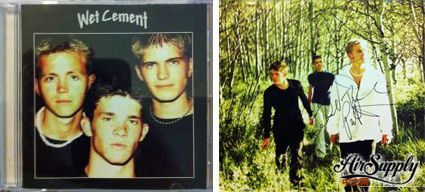 (Photos courtesy of Daniel Salome)

Graham's desire to produce other musicians was fulfilled in 1999 when his independent production company, A Nice Pear, released a CD from a band called Wet Cement. Recorded at Graham's home studio, recently renamed Woodland Magic, the CD was produced by Graham and Mark Williams, with artwork and design by Jodi Russell. Graham co-wrote and played guitar on a track called 'I Do,' and sang backup vocals on another called 'Curiosity.'

The Russell's discovered Wet Cement, comprised of three teenagers from Kamas, Utah, after hearing their four-song demo cassette, which was recorded in a band member's garage. "We get a lot of tapes sent to us," said Jodi. "But this tape was different. The group was very rough, but Graham and I liked them immediately. Their songs were fabulous!" Jodi became the band's manager, and on the day of their CD launch in August, Wet Cement opened for Air Supply at a benefit concert at Abravanel Hall in Salt Lake City. "It was definitely fun," said bassist Coby Coonradt. "There were about 2,000 people, and they were really into our music. That's pretty exciting for a garage band from Kamas." Following the Abravanel Hall performance, Graham and Jodi were approached by Warner Music and WorldWide Entertainment with offers to sign the band. Preparations for a European tour began, and a video shoot took place for what was to be the band's first single, 'Abduction Song.' It looked as if Wet Cement was on the verge of stardom, but the three young musicians decided to walk away from it all. Based on religious beliefs, Wet Cement did not agree with Warner's insistence on making the 'Abduction Song' music video racy. They decided to quit the music business and focus on the mission field. "They were so close," said Jodi. "They could have gone all the way. They were very, very talented, and they had a great vibe. It's taken some time, because we were so passionate about what they could have accomplished, but we do respect their decision."

Air Supply's growing popularity in India and their association with BMG Crescendo allowed them to record a duet, 'You Are,' with Indian pop singer Mehnaz Hoosein. It was written and composed by Graham, and was included on the soundtrack for the controversial Indian movie Split Wide Open. Produced by BMG Crescendo, Tropic Films and Adlabs Films, Split Wide Open was a selection at the 1999 Venice Film Festival, and later came under harsh criticism in India because of its focus on sexuality. Graham was deeply moved by the story of the film, revolving around the search of a young hustler who sells water on the streets of Bombay for his adopted sister. 'You Are' was recorded with a mix of English and Hindi lyrics and was a big hit in India.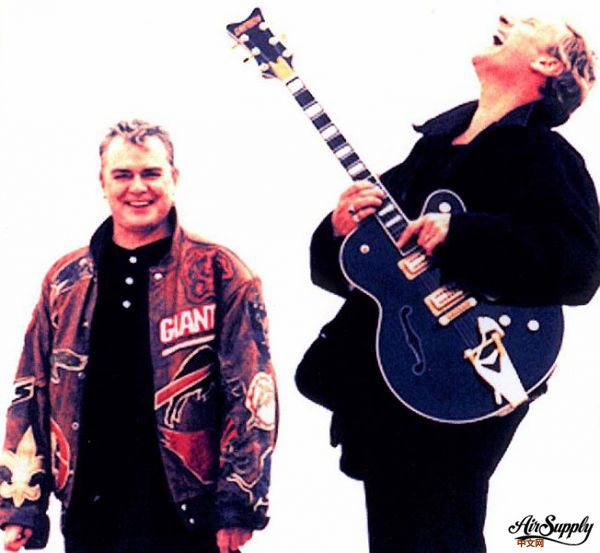 'You Are' Video Shoot (1999)

Mehnaz was already a rising star in her country after releasing her first album ('Miss India') in 1996, which featured the hit singles 'Mein Hoon' and 'Miss India.' That same year, she won Best Female Vocalist at the Channel [V] Music Awards, and also at the Screen-Videocon Awards. But her duet with Air Supply propelled Mehnaz into the limelight as an Indian celebrity. "Collaborating with Air Supply opened new doors for me," said Mehnaz. "They were very big in the 80s, and I hadn't thought of ever doing a duet with them. But it just happened at the Channel [V] awards in 1996. When I won that year, they were performing. The company (BMG Crescendo) spoke about collaborating with them, but the song took two years to work at because it was very difficult to co-ordinate. 'You Are' is a beautiful ballad, for the recording of which I had to fly down to Los Angeles. A video, shot in the Mojave Desert, California, is truly international class, and has won accolades." The music video, interspersed with clips from the film, was first telecast in India on December 20, 1999. It was filmed in sub-zero temperatures on the dry river-bed of the legendary Mojave River.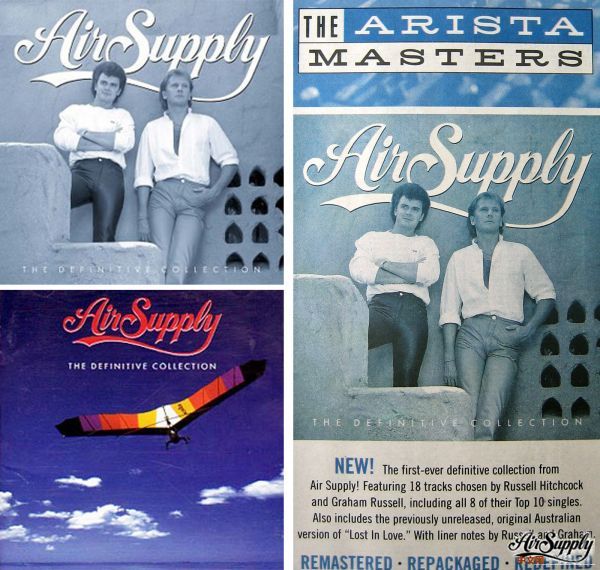 'The Definitive Collection' - North America & Japan

As part of their Masters reissue series, Arista released the highly anticipated Air Supply hits compilation, 'The Definitive Collection,' on August 23. The CD contained 18 tracks, including the seldom heard Australian version of 'Lost In Love.' All tracks were digitally remastered to 20-bit technology. A collectors booklet was included, featuring pictures and liner notes for each song written by Graham and Russell. "We cull the very best material from their entire Arista catalogue," explains Arista VP Steve Bartels, "then remaster it and include whatever special bonus tracks and packaging we think might be appropriate." Arista began releasing the Masters Series three years earlier, and many of the compilations were very successful. "Looking back at the first Arista Masters release in 1996 with Patti Smith," said Arista's director of special markets (U.S.) Gary Pacheco, "the goal behind everything we have done has been to gather the songs that best define the artist." In November, BMG and Arista released 'The Definitive Collection' in Japan with different cover art. The song list was identical to its North American counterpart. 'The Definitive Collection' was a big seller in many parts of the world, including Jamaica where Kingston newspaper The Gleaner wrote:
This album is a must-have for Air Supply fanatics worldwide. Distributed by Sonic Sounds, this CD offers a lifeline to music fans floundering in the seas of tortured syntax of American rappers, empty sentiments and bubble gum pop that passes for music these days. An added plus to the CD is the new liner notes by Graham and Russell that will give the hopelessly besotted fan invaluable information with a personalized touch on all their favourite tracks.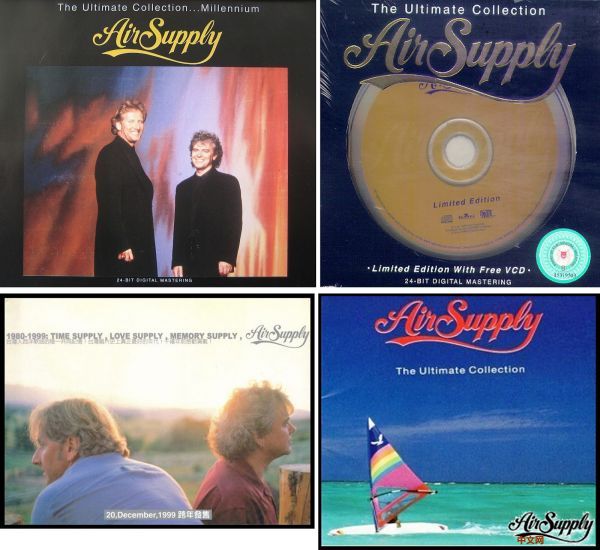 (Bottom Left) Cardboard Sleeve Promo CD - Taiwan

Air Supply was involved with the movie business again when a short clip from their 1995 Taiwan concert ('Sweet Dreams') was included in an independent film called Suits. Filmed in 1996 and released on September 26, 1999, Suits is a comedy that covers a war between business executives and creative teams, as two ad agencies compete for a major account. The movie was a disappointment at the box office, opening on two screens in the U.S. and grossing just $3,676. Suits was released on DVD in 2009 and experienced a small resurgence because it featured actor Steve Carell in one of his earliest roles. Russell and Graham had been asked to play a greater role in the film, but decided against it. "We decided not to do it because it was a bit silly," said Graham.

On December 21, Giant and BMG released an international hits compilation by Air Supply called 'The Ultimate Collection.' It was titled 'The Ultimate Collection...Millennium' in some countries, and featured different cover art and CD packaging. The album offered the most varied collection of Air Supply's hits to date because it was the first-ever collaboration between Giant, Arista and BMG. Produced by Graham, Russell, Clive Gardiner and Jeff Aldrich, the hits collection was distributed by BMG International in several variations: a 17-track promotional CD in a folded cardboard sleeve (Taiwan); a 34-track double CD; a 17-track single CD with bonus VCD (including music videos for 'Goodbye,' 'Unchained Melody,' 'Strong, Strong Wind' and 'Lost In Love'); and a 17-track single CD. In addition, a limited (5,000 copies) double CD with bonus VCD was released exclusively in Taiwan. BMG Thailand offered a limited edition (100 copies) velvet box package with gold plated CD and VCD. All five variations were digitally remastered from the original master tapes, and prepared using the latest 24-bit technology. 'The Ultimate Collection' included two new recordings, 'Longer' and 'The Scene.' 'Longer' was originally sung by Dan Fogelberg in 1980, whom Russell lists as one of his favourite singers. "The two tracks ('Longer' and 'The Scene') give an indication of the kind of music we'll be doing in the future," said Graham.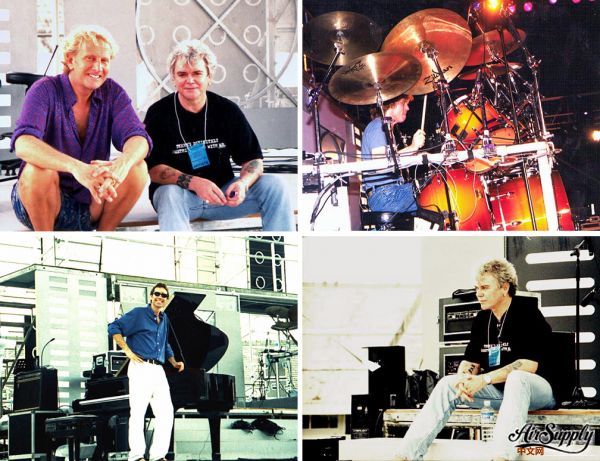 Millennium Concert, Singapore (National Stadium)

Air Supply headlined a massive Millennium concert on New Year's Eve at the National Stadium in Singapore as part of a short promotional tour of Asia. While much of the world was on standby in anticipation of Y2K-related disasters, a crowd between 50-60,000 watched Air Supply perform. Accompanying the band to Singapore was the new bride (Dawn) of guitar manager Mark 'Sparky' Sweatt. The couple were married in Vegas shortly before the trip. Russell took advantage of the New Year's Eve festivities to propose to his girlfriend Laurie. They were married three months later, on March 9, 2000.

The Asian tour was called the Greatest Hits Tour 2000, and included stops in Singapore, Thailand, Philippines and Malaysia. To heighten awareness of 'The Ultimate Collection' CD, BMG Thailand distributed free promotional CD's, titled 'Air Supply Live In Bangkok,' to concert ticket holders. The 8-track CD contained two songs from Air Supply ('All Out Of Love' and 'Goodbye'), plus songs from other artists signed to BMG. "Audiences in Asia were treated to several new songs in the show," said Graham. "Songs such as 'Restless' and 'Why Don't You Come Over' will be played at random and chosen before showtime. Also coming into the show for a while will be 'Goodbye,' which we have not been playing in the U.S."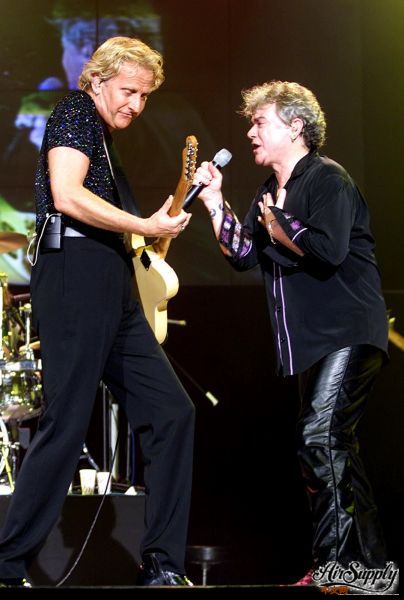 Genting Highlands, Malaysia - Jan. 15, 2000

The year 2000 was Air Supply's 25th Anniversary. To mark the occasion, BMG and Giant promoted 'The Ultimate Collection' album quite heavily throughout Asia. 'Longer' was released as a promotional single in parts of Southeastern Asia, where it received only minor recognition from radio. On the Malaysian leg of the tour, Air Supply held a quick press conference in Kuala Lumpur, before playing a single concert at the Arena of Stars in Genting Highlands.

The concert at Genting Higlands was organized by Genting City of Entertainment and BMG Records Malaysia. Air Supply performed as an economical five-member group, as they had now for several years. The stage presentation was mostly unchanged from recent tours, with the only significant difference being a large video screen placed behind the musicians that showed close-ups of the band mixed with National Geographic-type scenes of nature and space. The band ran through most of their big hits to start the show, much to the appreciation of the large crowd. Graham introduced two newer songs, 'The Scene' and 'Only One Forever,' the later being a vocal piece accompanied only by an acoustic guitar. Both tunes received only mediocre applause. Graham said that 'Only One Forever' is "about finding that perfect person with whom we want to spend our lifetime after the teenage and youth years of dating different people." The crowd sprung back to life when the band played 'Two Less Lonely People In The World' and 'Every Woman In The World.' "We have rewritten a lot of our old songs," said Graham. "This year we have brought back the song 'Every Woman In The World,' which we have not sung for years. We have a lot of fun doing it again." Surprisingly, the mega-hit 'Making Love Out Of Nothing At All' was somehow left out this night despite being originally slated to be performed near the end of the show. The New Straits Times review of the concert was mostly positive, but highlighted some challenges: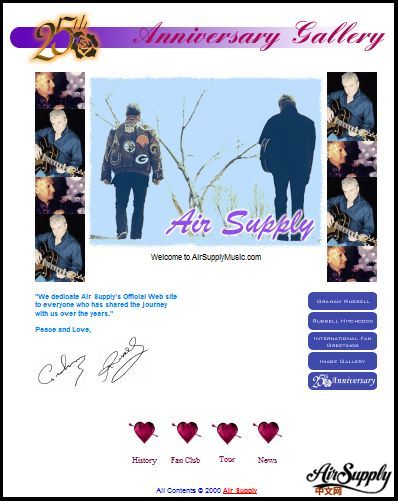 Website Redesign 2000

Something seemed imperfect about the sound mixing levels and we saw Hitchcock signalling his sound team constantly, at one point even forgetting one or two lines of lyrics as he tried to get his point across to someone. On the whole, the Genting concert was not grand in terms of personnel (it did not have a 40-member big band orchestra) nor was it a technical sensation with dazzling lights and other special effects extravaganza. Nevertheless, it gave die-hard fans what they wanted that night, which was a sentimental and warm journey down memory lane where they got to see the faces and hear the legendary voices of two artists who gave them timeless classics.

BMG, the parent company of Arista Records, announced in May that Clive Davis would be stepping down as president. Clive was instrumental in Air Supply's success in the 80s. Arista went on to have one its best years ever in 2000, posting $425 million in sales during the first nine months.

On May 13, Russell and Graham performed an acoustic set at the Miss Utah Pageant in Park City, Utah. The pageant was under the direction of Jodi Russell and Rosanne Swint. Jodi designed the cover of the pageant program book, a skill she would develop and use on future Air Supply projects, such as the redesigned website.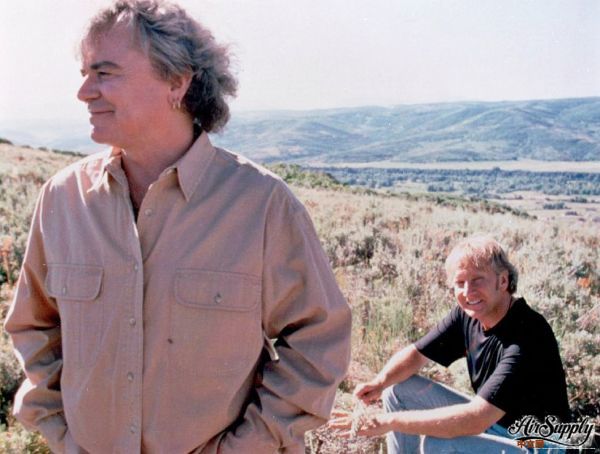 Press Photo - Giant Records, 2000

The Russell's boutique label, A Nice Pear, was actively pursuing new talent. Through Jodi's involvement in the pageantry business, a 14-year-old vocal sensation named Shari Short was discovered. Jodi's pageantry partner, Rosanne Swint, first met Shari at the World Cup of Wreslting in Spokane, Washington, where Shari opened the competition with three songs: 'The National Anthem,' 'The Power of a Dream' and 'I Believe I Can Fly.' Rosanne asked the young singer if she would like to try out for the Miss Idaho Teen USA Pageant. "At first I told her I wasn't sure if I was interested," said Shari. "Then she told me if would be great promotion for my music. So I decided to enter, thinking I could sing and play guitar for the talent portion of the competition. Little did I know there was no talent portion because it was a swimsuit competition!" Shari entered the competition regardless, and despite being one of the youngest contestants, she won the Miss Idaho Teen USA crown.

While preparing for the Miss Teen USA Pageant, Shari travelled to Salt Lake to train with Rosanne. "One night we took a break and went up to Sundance to eat dinner with her pageantry partner Jodi Russell," said Shari. "There was a younger man playing the guitar and singing in the restaurant. He must have noticed that I was watching him closely because on his break he came over and asked me if I played? I told him yes, and he encouraged me to go on stage and play. So I played a few of my original songs. Jodi was shocked and said, 'Oh my gosh, my husband has to hear you.' Her husband happened to be Graham Russell of Air Supply. I was thrilled!" Shari admits that she did not know who Air Supply was at first. After all, she was born after the band had their biggest success in the early 80s. Graham trusted his wife's instincts, and he knew that great things can be found in out-of-the-way places. "I came from the little town of Sherwood in Nottingham, so I can relate," he said.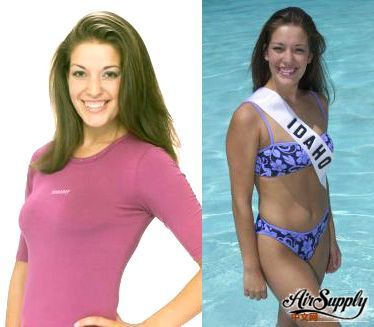 Shari Short

Five weeks later, after winning Miss Congeniality at the Miss Teen USA Pageant in Louisiana, Shari flew back to Salt Lake City to meet Graham. She went to an Air Supply show at the Utah State Fair and was amazed at what great performers they were. "This made me more anxious for them to hear my work," said Shari. "They took me backstage, and [Graham] said 'Come up tomorrow afternoon and let me hear you play.' The next day we went to Graham's studio. I sat down and played my stuff, and he was very interested. I was supposed to leave the next day, but everyone was so into it that I ended up staying a whole week and immediately started on an album." Shari recorded four of her original songs in the Russell's Woodland Magic Studio, where Graham mixed her guitar playing with bass and drum accompaniment by Air Supply band members. One of the tracks was called 'Pull The Trigger,' a song Shari wrote about a close friend who had committed suicide. "When I first heard it, I went 'Wow. That's something else,'" said Graham. "It's a really deep thing to come from such a young person. It's very emotional. That depth of emotion really tells me something. When she plays that live, people start crying. To me, they [all] sound like hit songs. I can see her opening for Air Supply in the distant future. I think she has great potential to be a major star."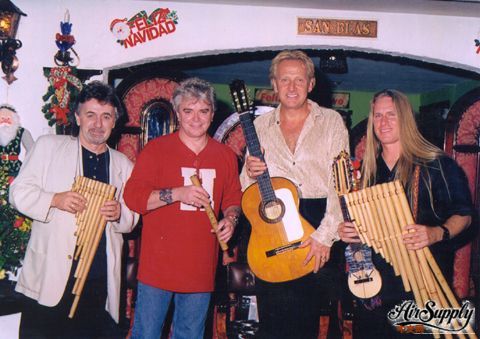 Ecuador, South America 2000 (Right: Cliff Rehrig)

In early June, Air Supply worked on their own album at Woodland Magic Studio. "The new album is nearing completion," confirmed Graham. "Russell will be in Utah this week (June 7) to resume singing after our recent shows in Arizona, Ohio and Michigan. The album has no title yet, just a few ideas. Coming into the live show soon will be two new songs from the album, 'If You Love Me,' and 'Don't Throw Our Love Away.' They are certain to be evergreens at our shows as 'The Scene' and 'Only One Forever' have become. Since the next album marks 25 years that we have been in the industry, we are seriously thinking of doing a Beatles song, because they have been a big influence on us since we were young."

Bassist Cliff Rehrig played his last show with Air Supply on July 23, 2000. He was a member of the band for almost nine years, the longest stretch of any Air Supply bass player. "I am going to take some time to be with my family," said Cliff. "I will miss all the band members and crew guys. They truly are the nicest guys I have ever worked with." Returning to Air Supply after a lengthy absence was bass player Larry Antonino. During his time away, Larry was recognized by the film industry with a gold record award for his contribution on the soundtrack for Tom Hank's 1997 film, That Thing You Do! Larry also played the role of Scott 'Wolfman' Pell in the film.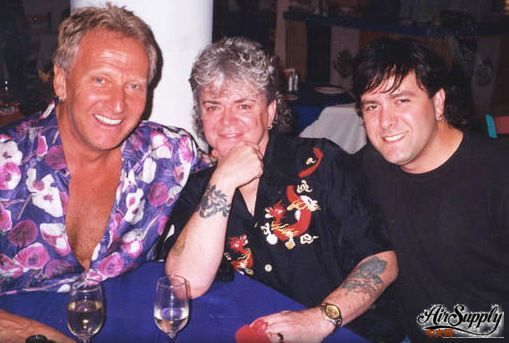 Graham, Russell, Larry Antonino (Mexico 2000)

Larry reunited with Air Supply for a long stretch of tours outside the U.S., including multiple dates in Australia and New Zealand in August. The tour of New Zealand was Air Supply's first visit to the island country, and the band was unsure how they would be received. "Any fears we may have had were soon put to rest after the show," said Russell, "as the audience sang along loudly and were really involved in the show with us. Of the cities that we played there, Wellington was by far the loudest. It's been a long time since I have heard an audience make as much noise as they did!" While walking around the city of Christchurch between shows, Graham bumped into one of the cast members that had been in Jesus Christ Superstar with the duo. "We hadn't seen her (Rosa Shiels) for twenty-four years," said Russell. "We had afternoon tea with her and reminisced about old times. She came along to see our concert that evening. I was very proud to have her see just how far we'd come since those very early days."

After a month of concerts back in the U.S., the band spent two exhausting weeks touring the interior of Mexico in September. Very few bands ventured into this part of the country for any length of time, but Air Supply attracted enthusiastic crowds at every stop. "It's always a tremendous feeling to be on stage in different parts of the world," said Russell, "and have our fans respond so wonderfully to our music." The international tour continued throughout South and Central America, including the bands first visit and performance in Uruguay. After a brief rest back home in the U.S., they departed for a two week tour of Asia in November, with shows in Taiwan, Brunei, Indonesia, Korea and Japan.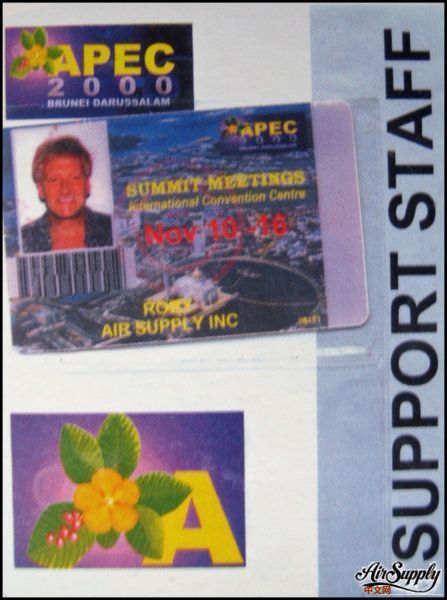 On November 16, Air Supply was invited to perform before the Sultan of Brunei. The tiny Nation of Brunei Darussalam, located on the north coast of the island of Borneo, was hosting the eighth annual APEC 2000 Summit in the International Conference Centre. Air Supply's presence was requested by the Sultan himself, who lists the band as one of his favourite acts. It was Air Supply's first visit to Brunei, where they performed during a farewell party for APEC delegates in the grandiose 200-room Empire Hotel, complete with gold-plated ceiling, two cinemas, an eight-lane bowling alley and a golf course designed by Jack Nicklaus. Whitney Houston also performed before the Sultan of Brunei in 1996, and was paid a lavish sum.

"We stayed in this hotel when we were [in Brunei] and it had like 800 rooms," said Russell. "The guy who was the liaison between the Sultan and us was giving us a bit of history about the Sultan. He had this hotel built for his brother for a weekend getaway. Just a place where his brother could hang out with 800 rooms. Apparently, [the Sultan] found out that his brother had his fingers in the till so he took the place away from him and turned it into a hotel. His suite in the theatre had 24 carat gold thread in the carpet. But he was a great guy. For our show, it was apparently the first time he ever sat down in the audience to see a show. He usually sat in his regal box up near the top. That was quite a compliment."

Air Supply's tour schedule for 2000 concluded in early December after two concerts on the Japanese island of Okinawa. The band returned to their respective homes in the U.S. for some much needed rest over Christmas and New Years, before completing the new album in January. Recent concerts had the band playing many new songs, giving fans an idea of what the new album might sound like. "We are very excited about it," said Russell, "and I think you'll find that it will quickly become a fan favourite. It is scheduled for a spring or summer release."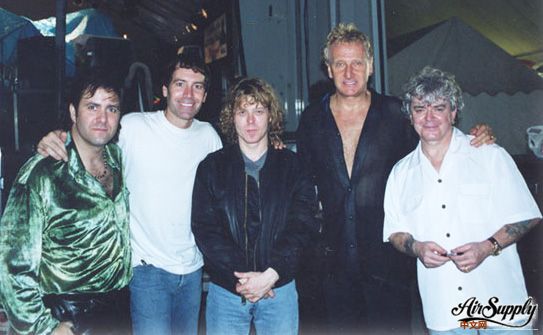 Final Show of 2000 (Okinawa, Japan)

Air Supply showed no signs of slowing down in 2000. They performed over 100 concerts, and many of these involved playing multiple nights at the same venue or multiple shows in one day, which Russell dreaded. The ambitious tour schedule was straining his voice, and on some nights he was unable to reach the highest notes. After performing back-to-back shows at Turning Stone Casino Resort in New York in March, The Syracuse Journal wrote:
When British native Graham Russell took the lead vocals for a song he recently wrote, 'The Scene,' he came through crisp and clear. Hitchcock's voice has not weathered the passing of time with as much grace. At times, his vocals were as gorgeous as the studio versions that made so many Air Supply songs so popular. Then he'd hit a stretch where it sounded as if he wouldn't know a tune if it walked right up and kissed him on the lips. Most of the crowd loved his work anyway, giving the band several standing ovations.

To help deal with his vocal concerns, Russell tried Vocal Bio Matrix, a voice development technique designed to free the body from psychosomatic blockages that keep one's true voice from coming through. This technique was already extremely successful with many artists, including Bette Midler, Tom Petty, Jackson Browne, Bonnie Raitt, Meat Loaf, and teams of vocalists from Geffen Records. According to VBM founder Warren Barigian, there are no scales involved, no right or wrong processes of singing, no lessons involved with his technique. "When you try to think about how to sing," says Garigian, "you are already shutting yourself down, because you're putting yourself at neurological speed. Neurological functions shut the voice down."