Chapter Twenty-Three: Yours Truly (2001-2002)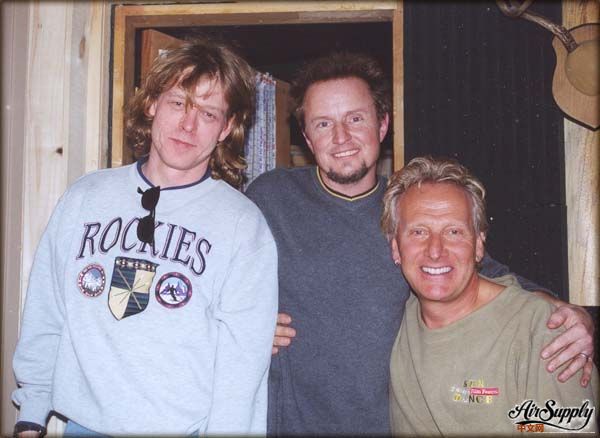 Recording in Utah (Mark, Jimmy Haun, Graham)

In January, Air Supply neared completion of their first album of new material since 1997's 'The Book Of Love.' Former band member Jimmy Haun joined Graham at his home studio in Utah to play guitar on three tracks, which Graham believed "added a unique character to the album." Graham produced the record with Mark Williams, and everyone involved was excited with the result. "I feel we have achieved a new sound for us," said Russell, "but have still stayed true to the beautiful melodies, touching lyrics and great vocal arrangements that have become Air Supply's trademarks. Though I was not actively involved in the songwriting process, I enjoyed the entire process of creating it, what with the lush string arrangements we incorporated. All of which have made the album a baby we're very proud of. An added bonus is the album package, photographed and designed by Jodi Russell. Jodi gave the CD a classic, romantic look that really does compliment the music beautifully." During a break in recording, Graham and Russell filmed a series of interviews for a soon to be released DVD from Arista Records.

The tour schedule for the first quarter of 2001 was light compared to previous years, with just a handful of shows in the States. A fan club gathering and two concerts took place on March 25 to 26 in Atlantic City, New Jersey. Air Supply arrived at the Claridge Hotel & Casino a week before the event to rehearse and add songs from the recently titled album 'Yours Truly.' Those in attendance at the fan gathering were the first to hear an advance copy of the album,' which was expected for international release on April 9th, and a month later in North America.

Shortly before the release of 'Yours Truly,' Warner Music Group bought out the remaining 50% of Giant Records that it did not already own. The deal was rumoured to include a payment of $25 million to Giant founder Irving Azoff. Giant's entire pop roster and catalogue were absorbed into Warner Bros. Records, and the majority of Giant's estimated 15 Los Angeles-based employees were laid off. The demise of Giant records meant that 'Yours Truly' was to be the last Air Supply album released by Warner or one of its sub-labels, despite the existing contract that called for an additional album.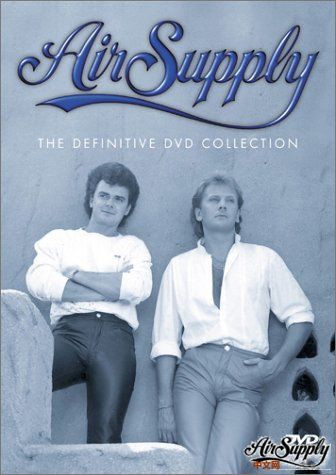 Graham and Jodi travelled to England in early April to further their studies in what Graham described as "the pursuit and understanding of the paranormal." It was Graham's desire and personal mission to discover the meaning of life; through reading, investigating historical mysteries with renowned author Graham Phillips, or through his own search within. Graham and Jodi made a concerted effort to get back to England, in particular North England, at least once a year, but spent most of their free time rehabilitating wildlife at their home in Utah. They became licensed rehabilitators and had accumulated a wide assortment of animals that included deer, raccoons, a bobcat, horses and several dogs.

On April 3, Arista released a collection of Air Supply music videos titled 'The Definitive DVD Collection.' The 15 music videos were mostly songs recorded during the band's period with Arista, but also two live performances from their time with Giant Records. The videos were interspersed with commentary from Russell and Graham, reminiscing about the circumstances when each video was filmed. The DVD was released internationally, and the Japan release included different cover art. Promotional music videos were an essential part of the music business in the early 80s. Most musicians had it written into their contracts that they must do video clips to promote their singles, and most recording artists wanted at least one music video per album. Most videos were filmed before the single it promoted was released, and it was not uncommon for the video to cost more to create than the cost of the single it promoted. Record labels had to decide if a single was commercial enough to warrant a video, and if the video would enhance it. Most of Air Supply's Arista singles released in North America included a promotional video, with 'Sweet Dreams' and 'Two Less Lonely People In The World' being the exception.

"We did a video [in 1976] for a song called 'Love And Other Bruises,'" said Graham. "It was very simple and very inexpensive, but very haunting nevertheless. We have always shied away from music videos. I think Russell and I don't like to look at ourselves on video, so we always found it a little unnerving. We're musicians, but I guess one must embrace that facet or idiom. I look upon them fondly because they are a time capsule. All of the videos we shot in one day. [I remember] we were playing four nights in Westbury, NY, and 'Even The Nights Are Better' was coming out. The usual thing for the record company was to find a director and come up with a storyboard, and shoot it. I remember that one at the storyboard stage in particular, because he said, 'Okay, I've got you two guys, and two girls who are your love interests are on bicycles,' and we just cringed. We thought, ugh, that's not us. We're adults and here's these two beautiful 19-year-old girls on bicycles and we walk up and talk to them? It was just a bit corny, but the record company knew our audience better than we did at that time, because it became a big hit."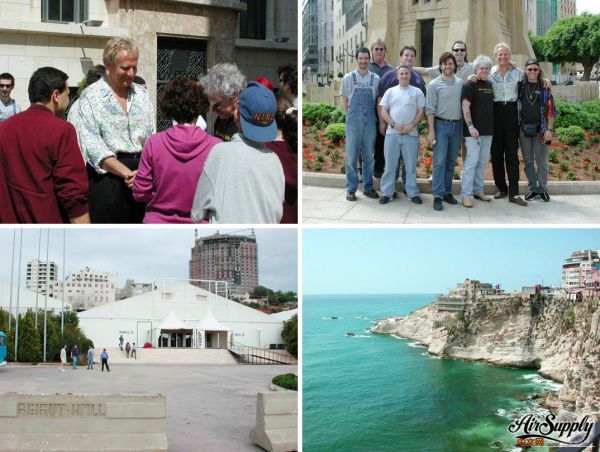 Air Supply in Beirut, Lebanon - April, 2001

In April, Air Supply flew to Korea and Lebanon, for the first of several international concerts in 2001. Scheduled concerts in Dubai, India, Singapore, China, Hong Kong, Malaysia and Mexico ensured that the band would make good use of their passports. The April 13-14 shows at Beirut Hall in Beirut, Lebanon, was Air Supply's first ever performance in the Middle East. The shows included drummer Christopher Pellani, bassist Larry Antonino and pianist Jed Moss. Between Concerts the band explored the historical city and took in the wonderful views of the Mediterranean.

Due to circumstances beyond Air Supply's control, the tour of India in May was cancelled. Indian promoters had tried to stage a tour for several years because Air Supply's popularity was sky high in the country. Indian pop singer Mehnaz was set to join Air Supply on stage to sing the revised duet 'You Are The Reason,' which was included on 'Yours Truly.' "We've heard so much about her," said Russell. "So when we decided to re-record the track in English, we thought, 'Hey, wouldn't it be nice to feature the Indian songstress?' Mehnaz flew into the United States and began work almost immediately. The result is simply refreshing."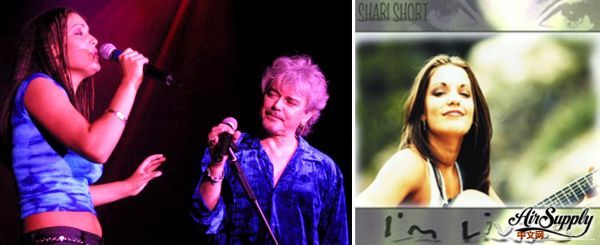 Shari & Russell Sing 'You Are The Reason' - May 2001

Graham and Jodi's vocal prodigy, Shari Short, signed a record deal with the Russell's independent label A Nice Pear. Short's album was recorded with musicians associated with Air Supply, and all CD artwork was designed by Jodi. It was expected for release on May 25, 2001, as this was the date that Short was scheduled to open three shows for Air Supply at the Orleans Hotel & Casino in Las Vegas. The shows went on as planned, but Short's album was delayed, and was released in July. It was available for sale at Air Supply concerts, Short's website and Hastings retail outlets. "Since I was still in school it was very difficult to take time out and work in the studio," said Shari Short. "I had been practically living with the Russell's to finish up on my album, which is called 'I'm Living.' The reason it is called this is because I have been living these past few months like a Rolling Stone, not letting anyone tell me that my dreams can't become a reality." Short opened each show in Vegas with original songs from her album. She then joined Air Supply on stage as a backup vocalist, and during the encore, sang 'You Are The Reason' as a duet with Graham and Russell. Short brought a new energy to Air Supply's live show, and also generated much discussion amongst the fans. There was confusion as to whether or not Short had joined Air Supply on a permanent basis, and what her future role would be.

The Vegas shows were a tremendous success, but Air Supply fans were disappointed to learn that 'Yours Truly' was not yet available in North America. It had been released in countries where BMG owned distribution rights, such as Germany, U.K., Argentina and parts of Asia. Many anxious fans bought the pricey import CD long before Warner had it distributed in North America. The Taiwan release included a bonus envelope and paper set, and was advertised as a 'special first edition.'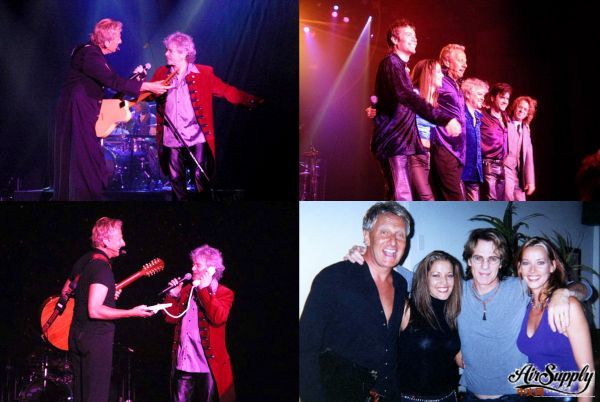 Orleans Hotel & Casino, Las Vegas - May 25-27, 2001

Set List - Orleans Hotel & Casino, May 2001
1. Body Glove
2. If You Love Me
3. Here I Am
4. The Scene
5. Yours Truly
6. Why Don't You Come Over
7. Sweet Dreams
8. The One That You Love
9. Lost In Love
10. Every Woman In The World
11. Making Love Out Of Nothing At All
12. You Are The Reason (Encore)
13. All Out Of Love (Encore)

Shortly before Air Supply began their summer tour of Canada, Mexico and the U.S., they flew to Dubai, United Arab Emirates, for a single concert on June 11. It was the band's first visit to the Middle Eastern country. The concert at Nad Al Sheba Club in Dubai happened to fall on Graham's birthday, so concert promoters made sure that it was a memorable occasion. Before Air Supply took the stage, the crowd was entertained by Brazilian fire dancers, fire eaters and artificial rain. A post-concert party included some of Dubai's top DJs. Shari Short did not make the trip to Dubai, but Mehnaz joined Air Supply on stage for a special rendition of 'You Are The Reason.'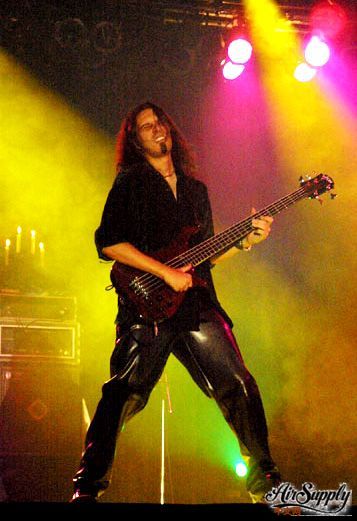 Jonni Lightfoot - Mexico Aug 2001

In July, Larry Antonino left Air Supply, exactly one year after rejoining the band in 2000. He later released a highly-praised solo album called 'Village Strut.' Antonino was quickly replaced by Jonni Lightfoot, a native of Salt Lake City, Utah, who had also released a solo record. His 1996 album, 'Copper Street Fair,' won him the 'Most Innovated New Artist' award from Bass Frontiers magazine for his use of the piccolo bass.

Like Jed Moss before him, Jonni Lightfoot was discovered by Graham when he had asked around about bass players in the Salt Lake City area, and Lightfoott's name kept coming up. Lightfoot had met Graham several years earlier, but admits that he did not know who Graham was at the time. "I was working at a local guitar shop in Salt Lake City," said Lightfoot. "Graham had just moved there and came into the shop one day. I asked him if I could help him find something. As time went on, he kept coming into the store and buying gear from me. I eventually moved to another store and he followed me there to buy his road and studio gear. One day [in 2000] he came in asking if anyone knew of any bass players. The other salesman referred him to me so he came over and talked about the gig. He asked if I was able to travel to Las Vegas the next day to see them perform. I couldn't because I had prior commitments, but I told him I was available the following week. He ended up hiring someone else, but almost one year to the day, he came back and told me the guy he hired wasn't working out. I wasn't doing anything that weekend so they flew me out to a gig. After the show, Graham, myself, and both of our wives got something to eat. Graham asked my wife if I could do the gig and she said 'absolutely.' The following week I was on a month-long tour with Air Supply through three countries. The funny thing about this whole deal is that they never heard my play until I was on stage with them in South Dakota."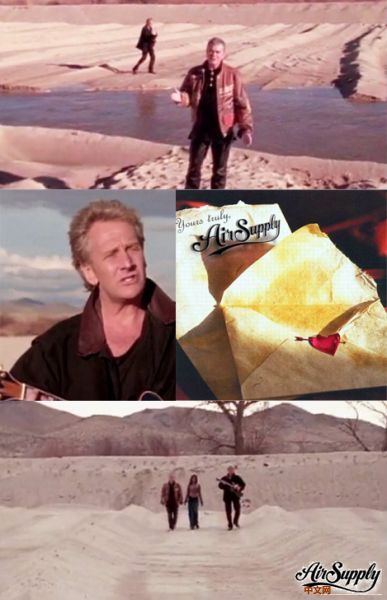 'You Are The Reason' Promo Video

After many delays, 'Yours Truly' was released in North America on August 28, 2001. The demise of Giant Records meant that there was very little promotion for the album. The official press release package, which included an 8x10 photo taken by Jodi Russell, was put together by Reprise Records, a division of Warner that was still active. The album was sold through online retail and in limited quantities at traditional brick and mortar record shops. There were no singles released in North America. BMG released 'You Are The Reason' as a single in parts of Asia with a promotional video featuring Mehnaz. The video was dubbed with English vocals from Mehnaz, and used footage from 1999 when 'You Are' was released as a single for the movie Split Wide Open.

'Yours Truly' contained 13 tracks that Reprise described as having "dramatic string arrangements, complex harmonies, and the kind of intimate ballads fans have come to expect from Air Supply." The album also contained some surprises, such as the techno-flavoured 'Body Glove' and 'Learning To Make Love To You.' The later being a song about Graham's admiration for the Beatles as a youth. "It's about how people change from kids to adults," explains Graham. "I wrote the song three years ago, and hesitated putting it on the album at first because I figured kids today wouldn't know who the Beatles were. But then the '1' album came out!" Graham had hoped to record a cover of 'If I Fell' by the Beatles, but the licensing fees were prohibitive. The album title track was Russell's personal favourite, and just one of several ballads. "It's a beautiful sentimental song with great harmony," he said. "The theme is universal. It's about how one expresses her or his love to another person, as simple as that."

Fan reaction to 'Yours Truly' was widely mixed. Many welcomed the return to the highly orchestrated and romantic love songs of years past. 'You Are The Reason' was regarded as one of the strongest tracks, and perhaps some of Air Supply's best work in years. Some fans complained that there was little variety on the album. Others were disappointed with the lack of Russell's soaring vocals, Air Supply's trademark for so many years. There was an obvious change in Russell's voice, a lower timbre and perhaps richer tone that appealed to many, but drew criticism from others. It was a matter of opinion which singing style was better, but few would deny that Russell remained an excellent vocalist. The song 'Body Glove,' which Air Supply opened their concerts with earlier in the year, generated a lot of discussion. The song was born out of Graham's love of electronic music, but the lyric 'The world is just potato chips, joined together at the female hips' did not sit well with Air Supply's predominantly female audience. When questioned what the lyric meant, Graham said that it had no significant meaning.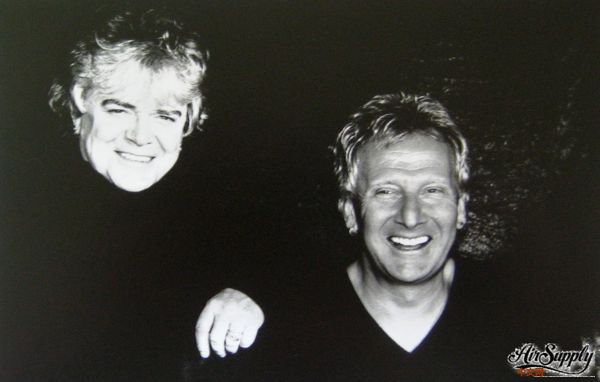 The U.S. media paid little attention to 'Yours Truly.' The constant delays in getting it released, the lack of promotion, and the refusal of radio in North America to play Air Supply all contributed to this. In addition, the album hit stores shelves just two weeks before the tragic events of September 11, 2001. This had a detrimental effect on the music business, which saw record sales drop 5% in the U.S. the week after 9/11, and a 16.2% decline in the New York metropolitan area. Music critics were especially hard on 'Yours Truly,' more so than for anything Air Supply had released in the previous five years:
Much like other aging stars such as Rod Stewart, Madonna and The Rolling Stones, they have decided it's time for a little musical redecorating. Incorporating techno, playfully erotic lyrics, and Indian vocal star Mehnaz, they attempt the impossible. Air Supply does ballads. However, they are not a boy band, nor a pair of DJs. But you have to draw the line somewhere, which seems to be the one thing Air Supply forgot to do on 'Yours Truly.' Die-hard Air Supply fans will love this release, because even though they make it out to be that they have completely reinvented themselves, only about four of the thirteen tracks are exploratory. - Vanessa Bormann, Ink 19

Only one tune here, the sweeping, orchestrally enhanced 'You Are The Reason,' comes close to capturing the sugary charm of those old days, when Russell Hitchcock's vocal soared like it was the most soulful thing in the world. Otherwise, there are songs entirely based on annoying fake string dramatics ('Who Am I'), inane lyrics, and computer-generated songs (all in one on 'Body Glove'), and monotone meanderings like 'Don't Throw Our Love Away' and the title track. The songs are mundane, but the saddest thing is that for fans of the group, the main attraction of Hitchcock's voice is completely suppressed. - Jonathon Widran, AllMusic




Sound Check at Municipal Stadium, Queretaro, Mexico - Aug 2001

On August 9, Air Supply began a nine-city tour of Mexico, which had become an annual tradition of sorts. Mexican fans came out in droves to see the band perform in concert venues that ranged in size from cozy 700-seat theatres to massive outdoor football (soccer) stadiums. The tour of Mexico were Jonni Lightfoot's first international concerts with Air Supply, and they must have been an eye-opening experience for the bassist, who knew very little about Air Supply before joining the band. The passion and dedication of the Mexican fans could convince the most skeptical critic that Air Supply was one of the biggest draws in this part of the world, no matter what the language of the audience. Russell summed up the Mexico tour by saying; "There was a lot of sun and of course, we had loads of fun too! To us, creating good sounds is very therapeutic. It feels even better if the songs are widely accepted by the listeners. We're involved with a great bunch of talented people. We also love being on the road, doing tours and providing good music to our fans out there."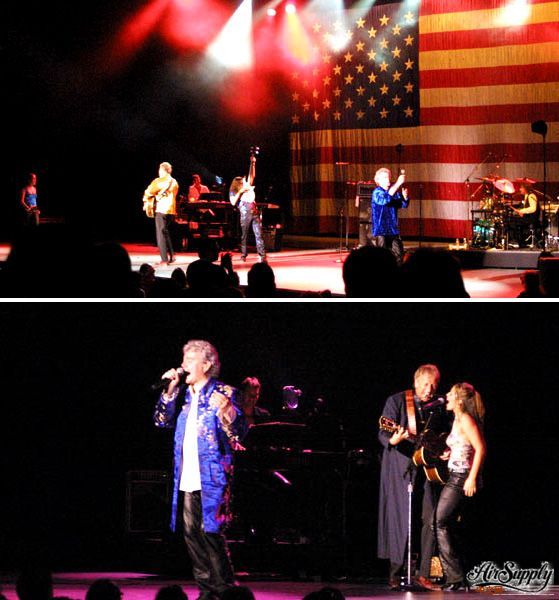 Greek Theatre - September 14, 2001

The events of 9/11 had a significant impact on the music business. Music sales dropped and many artists had to cancel shows for fear of terrorism. Janet Jackson called off the entire leg of her European tour because of safety issues. Air Supply cancelled a show in Japan that was scheduled just after 9/11. This was to be Shari Short's first overseas travel with the band, but air travel was severely hampered during the weeks following the attacks. But soon after, music played an important role in the process of healing and the eventual return to normalcy. Several benefit concerts were organized as the music world banded together to help victims of the attacks.

Air Supply returned to the stage rather quickly for a concert at the Greek Theatre in Los Angeles on September 14, and at the Peppermill Hotel & Casino in Reno, Nevada on September 15. Unable to fly, Air Supply had no choice but to drive to Los Angeles, the crew from Colorado, band members from Utah and Shari Short from Idaho. As a tribute to those affected by the events of 9/11, Air Supply performed in front of a large U.S. flag at the Greek Theatre. "We firmly believe that getting out on stage again as soon as possible was the right thing to do," said Russell "and the concerts in Los Angeles and Reno proved to us that we had made the right decision as the audience at both venues truly appreciated us being there."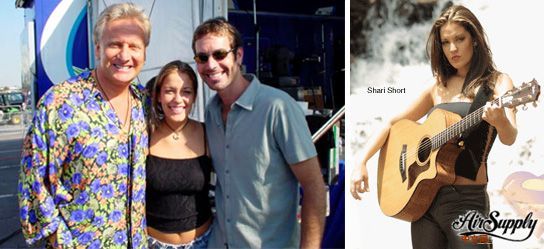 Toronto, Canada - Sept 6, 2001

In September, Shari Short became an official member of Air Supply's touring band, with the intention of becoming a solo artist in the future. Her time in Air Supply allowed Graham and Jodi to act as her mentors. "When you see the raw material, it's a great thrill to be part of refining it, yet just steer them down the right path," said Graham. "When we are in the studio, I kind of take on that role of guiding her and giving her the benefit of my experience. I think she's going to be a big star. It's just a matter of time." Short often travelled with her father, Butch, but Graham and Jodi became surrogate parents when he was not around. The Russell's influence on Shari ran deep; she wore a spiritual healing necklace and played a Taylor guitar engraved with her name on a plate between the strings on the head, both gifts from Graham and Jodi. "She's like our daughter," said Jodi. "I'm very protective." Short's first international performance was on September 6, when Air Supply played at Woodbine Racetrack in Toronto, Canada. Due to the international crisis following 9/11, she did not accompany Air Supply on their two week Asian tour starting September 28.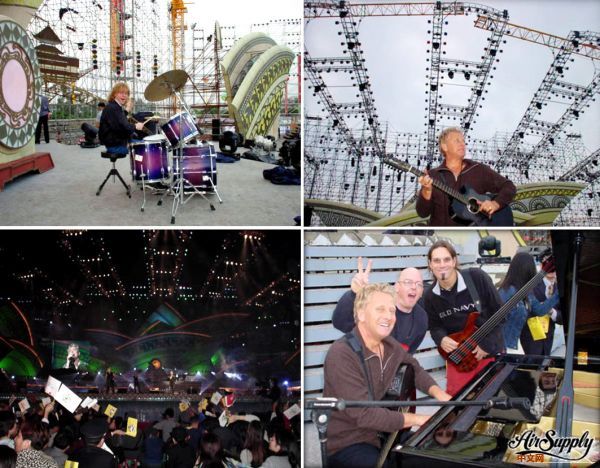 Nanning Arts Festival, China - November 9-10, 2001

One of the highlights for Air Supply in 2001 was the invitation to perform in China at the Nanning Arts Festival. The event took place between November 10-21, and its main purpose was to celebrate all of the ethnic people of China. The Chinese government funded the appearance of one Western group, and no one was more popular in China than Air Supply. Graham, Russell, Jonni Lightfoot, Mark Williams, Ron Pedley and crew flew into Guangzhou on the morning of November 9. After an unexpected layover lasting over four hours, they flew into Nanning, a city with a population of 2.8 million. Ron Pedley, a keyboardist from the U.S., had filled in for Jed Moss during Air Supply's tour in Venezuela at the end of October. Pedley was Barry Manilow's touring keyboardist since 1984, and was considered an exceptional talent.

The night before Air Supply was to perform at the Nanning Arts Festival they rehearsed on a massive stage, all of which was a bit overwhelming for Ron Pedley. "Arriving at the venue, I'm blown away by the size!" he said. "It's a large soccer stadium holding about 20,000 people. The stage is huge. With five large light trusses above the stage and scaffolding going up 150 feet on each side. The event is to be televised live, and because the Chinese do not have the technology to make live music sound good on television, we are performing and lip synching two songs to tracks ('Unchained Melody' and 'All Out Of Love')." The televised event was predicted to have 400 million viewers throughout Asia. Air Supply was scheduled to perform at 10 p.m. on November 10, and Pedley described the hours before and after they hit the stage; "We head out to the gig at about eight o'clock. We pass many open storefronts with televisions tuned to a live feed of the Festival. People are huddled around the screens. Arriving at the stadium we head to the dressing rooms passing through security. It looks like the Army is out keeping watch. Air Supply is the only American group on the show. There are Chinese pop stars and rock groups performing. The lights are fantastic. There are huge screens on both sides of the stage. Our part of the show goes well, but a scary moment happened when pyro was set off very close to Graham and Russell. They were not warned and this did not happen at the rehearsal. The crowd went nuts for Air Supply. They are very popular in this part of the world."




There was just one Air Supply compilation CD released in 2001; 'Sweet Dreams: The Encore Collection.' This value-priced Arista and BMG Special Products collection contains 10 tracks from Air Supply's early 1980s catalogue. Although the CD excludes some of their biggest hits, it provides a decent overview for casual or new fans of the band. But ardent supporters of Air Supply will find that 'Sweet Dreams: The Encore Collection' pales in comparison to the comprehensive 'The Definitive Collection' or 'The Ultimate Collection.'

Paradiso Entertainment, under license from BMG Belgium, issued a re-release of 1980s 'Lost In Love' album as part of their 'Best Of' series. 'The Best Of Air Supply' was initially sold in Belgium, and was later released in the U.K. in 2002.

While Air Supply toured during the first quarter of 2002, Graham also worked on independent projects. 'The Heart of The Rose' CD neared completion, and a new website helped promote it. The site included a detailed account of the true story of Robin Hood as described by historical author Graham Phillips, and secret links leading to additional 'mystery and adventure.' A behind the scenes documentary DVD of 'The Heart of the Rose' was scheduled for release later that year, as well as a limited edition photo quality poster.

Graham also worked on a children's musical called Petalbump with Jonni Lightfoot and Jed Moss. The idea for Petalbump first came to Jodi Russell through a series of dreams four years earlier. It was a story about Lucy, a woman in her 30s, who returns to her childhood home and discovers some artifacts from her youth that transport her into a world of fantasy, full of fairies who have been waiting years for her to return. "I became interested in everything fairy," said Jodi, "but it was Graham who came up with the idea to write a children's ballet." Graham and Jodi had big plans for Petalbump that included a full length soundtrack CD, a stage production and a series of children's books.

On May 14, BMG International released a region-free DVD of the 'Now and Forever Video Special' throughout Southeast Asia. It was previously available on VHS, laserdisc and VCD.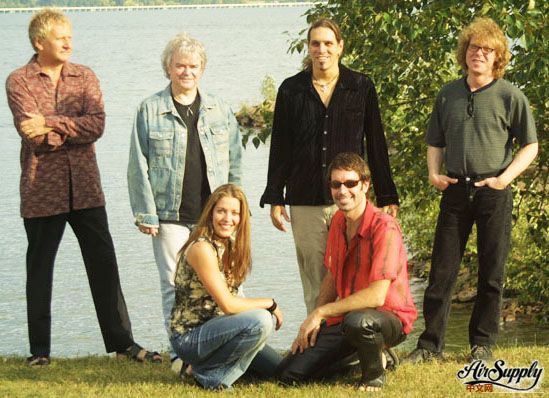 Stan Brown (Left), Shari Short, Graham Russell, Adrian Zmed

After returning from a quick trip to Shanghai, China, in May, Air Supply unveiled an updated show at The Orleans Hotel & Casino in Vegas. It featured different arrangements of previous hits, and also two new songs: 'I'll Find You' and 'Shadow Of The Sun.' The show opened with an upbeat version of 'Even The Nights Are Better,' infused with heavy bass and guitar. Shari Short, who had recently formed a new band, opened the Vegas shows with her own revised set list. Since the release of her debut CD 'I'm Living,' Short had worked on new material for a record she hoped to release in 2003. The Vegas shows were such a success that The Orleans asked Air Supply to return for three additional dates July 5 to 7.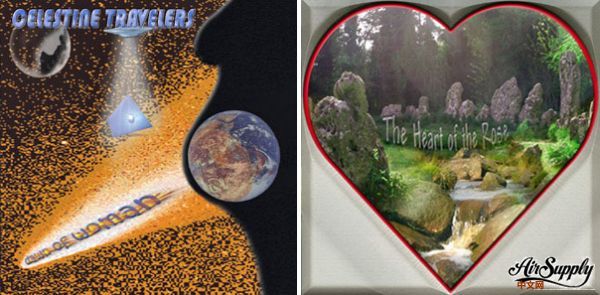 'The Dawn of Woman' & 'The Heart of the Rose'

Almost thirty years in the making, 'The Heart of the Rose' double CD was released independently by A Nice Pear on July 11. It had no official distribution, and sold for $35.00 on Air Supply's website and at concerts, where the first 1,000 copies were signed and numbered by Graham. CD artwork and design was done entirely by Jodi Russell. The 39-track CD was divided into two acts. The vocals were recorded at Graham's home studio in Utah, and included Shari Short, Jed Moss, Karla DeVito (who had sung with Meat Loaf), Stina Peterson, Adrian Zmed, Broadway singer Stan Brown, Jodi Russell, Graham and others. Backing musicians included current and past members of Air Supply; Jonni Lightfoot, Mark Williams, Guy Allison, Jimmy Haun, Michael Sherwood, Larry Antonino, Billy Sherwood and Greg Hilfman. According to Graham, initial sales for 'The Heart of the Rose' were brisk. "It's actually gone through the roof," he said, "and it's only been out two weeks. It's such a great feeling to see it out in the world at last. Everyone is commenting on how you can't just listen to one or two tracks, it pulls you in and you have to listen to it all. I find myself doing that too! To see it finally completed brings mixed emotions, but it is time for it to fly with its own wings. I am proud of the finished project."

On September 1, A Nice Pear released 'The Dawn of Woman' from the Celestine Travelers, a fictional entity created by Graham. It was a double CD; one CD being all instrumental and the other being narration of the first four episodes of the Celestine's intergalactic travels. Graham described the project as a collection of "really deep thoughts from space." 'The Dawn of Woman' was not pop or commercial music, and it drew only limited interest from Air Supply fans. It was sold on Air Supply's website and at concerts, until it sold out almost two years later.




Russell's & Michael Blakey Family - Park City, Utah

On September 21, Air Supply entered into an exclusive artist recording agreement with Michael Blakey of 2KSounds for the worldwide rights to the band's next studio album and a newly recorded greatest hits album. 2KSounds were distributed by EMI Music Distribution. It was an important deal for Air Supply because they did not have international distribution in place prior to the agreement, and much of their popularity was overseas. 2KSounds, located in Woodland Hills, California, promoted new music talent and produced and distributed their music through a variety of methods, including joint ventures with major labels, sub labeling and partnerships on albums by established artists. "It's truly gratifying when a band of this caliber recognizes the value we can bring to their efforts," said 2KSounds CEO John Guidon. "The phenomenal thing about Air Supply is their enduring popularity. They have fans all over the world waiting for their new release, and we anticipate a wide audience for a fresh recording of their classic hit songs. 2KSounds has been aggressively pursuing opportunities to enhance our position in the music industry. We have been able to leverage off of the substantial experience and reputations of our music industry staff and their industry contacts to create a fully functional recorded music company with a distribution channel to retail stores throughout the United States which would otherwise take significant time, effort and resources to build."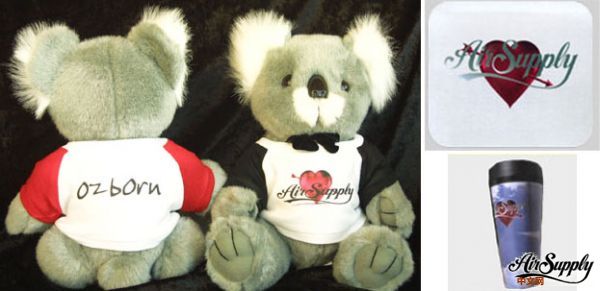 2002 Merchandise - Koala Bear, Mousepad, Mug

In October, during a break in the touring schedule, Air Supply rehearsed a new show in Salt Lake City. They added three new tracks; 'Come To Me,' 'Goodnight' and a reworked version of 'Big Cat' with the full band. The updated show was big hit with fans when it premiered at The Orleans in Vegas at the end of the month. New merchandise was available at the shows, including temporary tattoos, a travel mug, a mousepad and a repackaged CD of Air Supply's 1995 concert in Taipei, Taiwan. The CD featured new artwork from Jodi Russell, and was advertised as a limited edition, available only during the autumn of 2002.